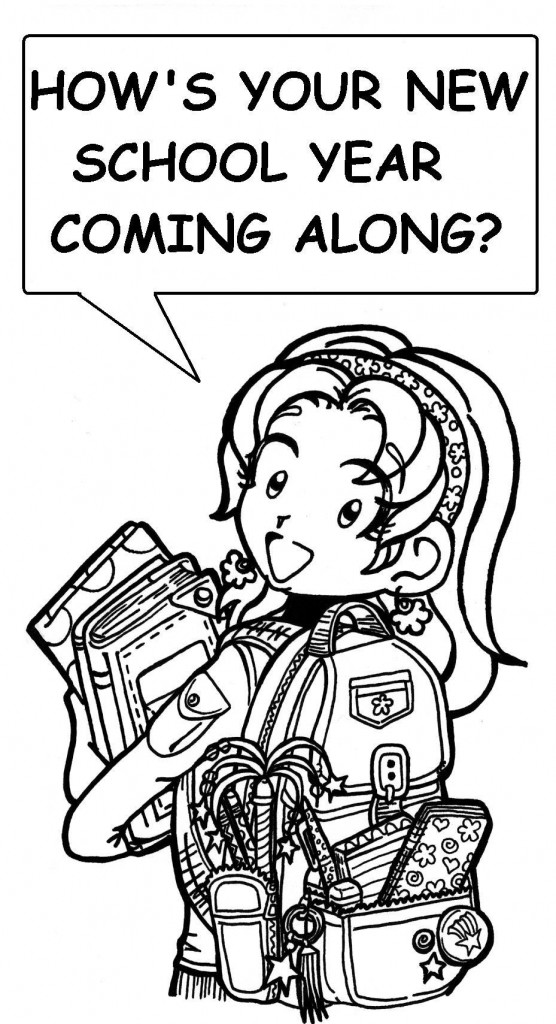 How in the world did this happen?? It seemed like just the other day I was running out of school—in slow motion, with the wind blowing in my hair—while a narrator told the story of my amazing and super exciting summer plans.
NOT!  But in the movie version of my life, it would have happened just like that.
Only, instead of it being me, it would have been Selena Gomez playing me.  And Justin Bieber (playing Brandon), would have been running beside me in slow-mo, while Miranda Cosgrove and Keke Palmer(Chloe and Zoey) would be skipping, giggling, and shouting, "Waaaaiittt uuuup Niiikkkiii…Weeee loooovvvveee yooooouuu!" (It's in slow-motion to be dramatic, remember?)
All fantasies aside, I can't believe how quickly the summer flew by! Why is it that one tough math class can seem as slow and boring as a decade of watching golf, but two and a half months of pure summer fun goes by like the commercials you fast forward when watching TiVo?
Less than a month ago, I was looking through my bathing suits, trying to find a super cute one to wear for one last day at the beach.  Then mom came in, and was all like, "Want to go shopping for notebooks and pens tomorrow?"
Hmm, do I want to go shopping for notebooks and pens? Sure, Mom! I'll pencil that in my planner, right between "eat 20 prunes" and "help Dad wax his nose hair."
Was she nuts? NO, I didn't want to buy notebooks and pens! I didn't want to even THINK of using notebooks and pens!
Ok!  So that's not really true. I actually LOVE notebooks and pens, for art and stuff, but that's SO not what she meant!
The notebooks and pens SHE was talking about are the kinds you use for notes and homework. And I'm SO not a fan of notes and homework. Why can't teachers assign cool homework that kids will actually want to do?
So instead of telling you to just read 20 pages of Romeo and Juliet, your English teacher would tell you to go to the mall and flirt with a boy your parents don't approve of.  You know, forbidden love, just like in the story!
And, instead of telling you to make a volcano, your Science teacher would send you home with a permission slip for a field trip to Hawaii…where there are TONS of volcanoes, and beaches, and year-round summer weather!
Aside from my obvious disdain for homework, there was one other reason I was kind of dreading this whole back-to-school thing: life is WAY cooler when I don't have to see MacKenzie Hollister, EVER!
I just knew she's going to say something super obnoxious and dumb the second I saw her.
She was going to give her CCP friends air kisses, and then stare into her locker mirror, like Snow White's Evil Queen, while applying way too much Poison Apple Delight Extra Shiny lip gloss.
Then right when she saw  Brandon walking by, she was going to spray herself with some putrid designer imposter perfume and drop her history book, as if to say, "Oh I'm such a helpless little popular girl…I need help carrying all these heavy books so I don't break a nail!"
Then she'd look at me, with a snooty smirk, like she'd just won some type of coolness contest.  And I'd know that it was true—she was definitely WAY cooler than me.
But,  then Brandon would step over her book, grab my hand, and skip with me in slow motion to art class, where we'd draw together for the entirety of the first day back to school!
Ok, so I'm totally having another movie fantasy moment.
Going back to school 'ain't easy!
But, a girl's gotta do, what a girl's got to do!
How do you feel about being back in school?
Are you happy, sad, or bored out of your skull?
Next blog update on Tuesday.  TTYL!
P.S.   No!  I haven't forgotten!  Those posters are STILL  coming.  I'm just swamped with homework right now.  But, they'll be SO worth the wait. I promise!  So, please don't be mad at me :-p.