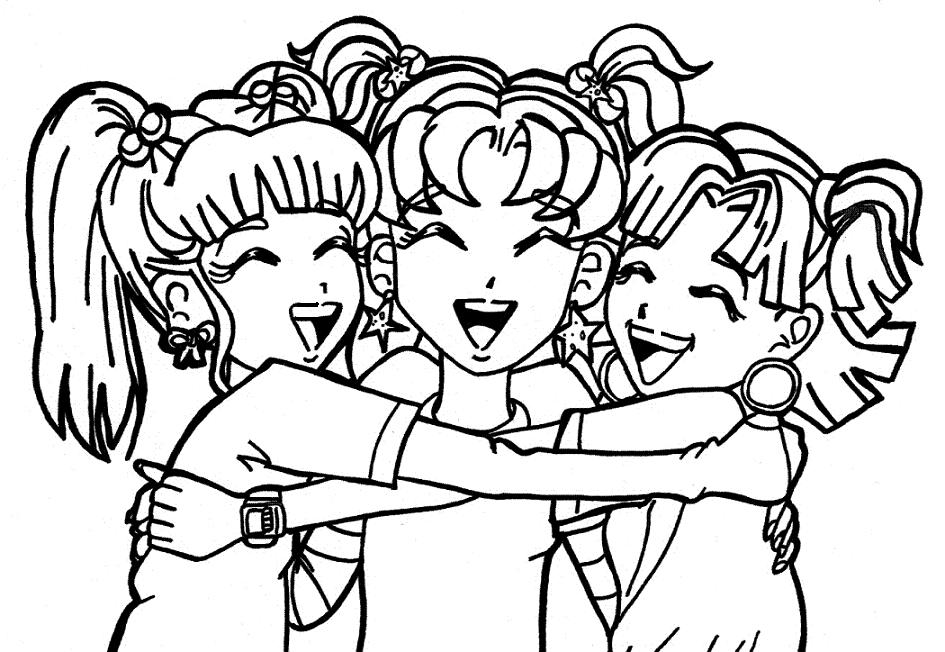 I'm so super lucky to have awesome friends like Chloe and Zoe! And I'm TOTALLY glad I'm not one of MacKenzie's mindless clones. Seriously, CCPs follow her around like the paparazzi follow Lindsay Lohan (except the CCPs probably aren't hoping to catch a wardrobe malfunction…)
The other day I saw MacKenzie in the mall, cackling like a sick hyena, and she was totally trashing one of her "friends" Lauren.  Who does that??
Not you, I bet! You're probably an awesome friend. Not sure? Take the quiz and see!
1. You just had a HUGE fight with your BFF Jen, for the third time this week! As soon as you hang up the phone, you:
a. Decide you are SO done with her. Then you invite all your other friends over and tell them that Jen is drama central and they should stay far, far away!
b. Call your other BFF before Jen has a chance to do it. Then you try to get her to agree that Jen was totally wrong and owes you a BIG apology, ASAP!
c. Cry—just a little! Then you call her back and try to smooth things over. It's your BFF you're talking about here!
2. You're in the janitor's closet at school chilling  out (what, doesn't everyone do that?) when you overhear a bunch of girls making fun of your friend. You:
a. Might laugh if they say something funny. They're only joking. There's no reason to be all uptight about it!
b. Put on your iPod. It's not your job to be "mean police," but you don't have to listen to it, either!
c. Practically kick down  the door and set those girls straight. No one disses your friends—end of story!
3. Your BFF broke her leg, so you promised her you'd watch movies with her instead of going to the school dance. Then your crush asks you to go! You know that:
a. Your friend will totally understand if you go to the dance. All good friends know that crushes come first!
b. This is one of the hardest decisions you'll have to make all week. Why does he have to be so cute?!?
c. He'll ask you to another dance some time if he's really into you. So you tell him you already have a date with your bestie (even though it kind of hurts…)
4. Your friend's been hanging with some mean girls lately. (They make MacKenzie look as sweet as Selena Gomez…that's how nasty they are!) You:
a. Just hang with your other friends. You're not going to beg her to spend time with you. If she forgot how awesome you are, then that's her loss!
b. Wish you could do something about it. They might totally stab her in the back! But you don't think you can, so you just wait to see if she'll call you.
c. Pull her aside and pinch her, because she must be under some kind of mean girl trance. There's no way you're letting them pull her to the dark side. She's way too good for that!
5. Your friend just said something really insensitive to you and it hurt your feelings. You think that:
a. She totally meant to do it. You definitely don't trust her anymore, and you're going to tell her that!
b. She was just having a bad day, but it was SO not cool! You'll definitely need a little while to cool off before you forgive her.
c. She would never purposely hurt your feelings. So you ask her if there's something else bothering her. You're always there to help!
Mostly As
Sometimes you put other people and things before your BFFs, and you don't always stick up for them when other girls start getting mean. You also get angry with them kind of quickly. Next time, give them the benefit of the doubt. You don't want to end up without any true friends, like MacKenzie (OMG did I really just compare you to MacKenzie?!? Now I feel like a TOTALLY mean friend, because that was downright cruel!)
Mostly Bs
OK, let me start by saying you're an awesome girl. (If you like my dorky diaries, we'd probably be great friends!) But you're not always 100% loyal. You don't always defend your friends against mean girls, and you don't always try to fix things when you get into fights with them. Your BFFs love you, and they want to trust you, so don't forget to show them that they can, by being there for them!
Mostly Cs
You're like Chloe and Zoey—a totally awesome friend! If you lived in my hood, we'd definitely all hang out, because you never ditch your friends for guys, you always look out for them, and you're the first one to help when they go through rough times. If there was an Oscars ceremony for good friends, you'd be blubbering your way through an acceptance speech right now—that's what a great friend you are!
Next Blog update Tuesday, October 11th!
TTYL :-)!