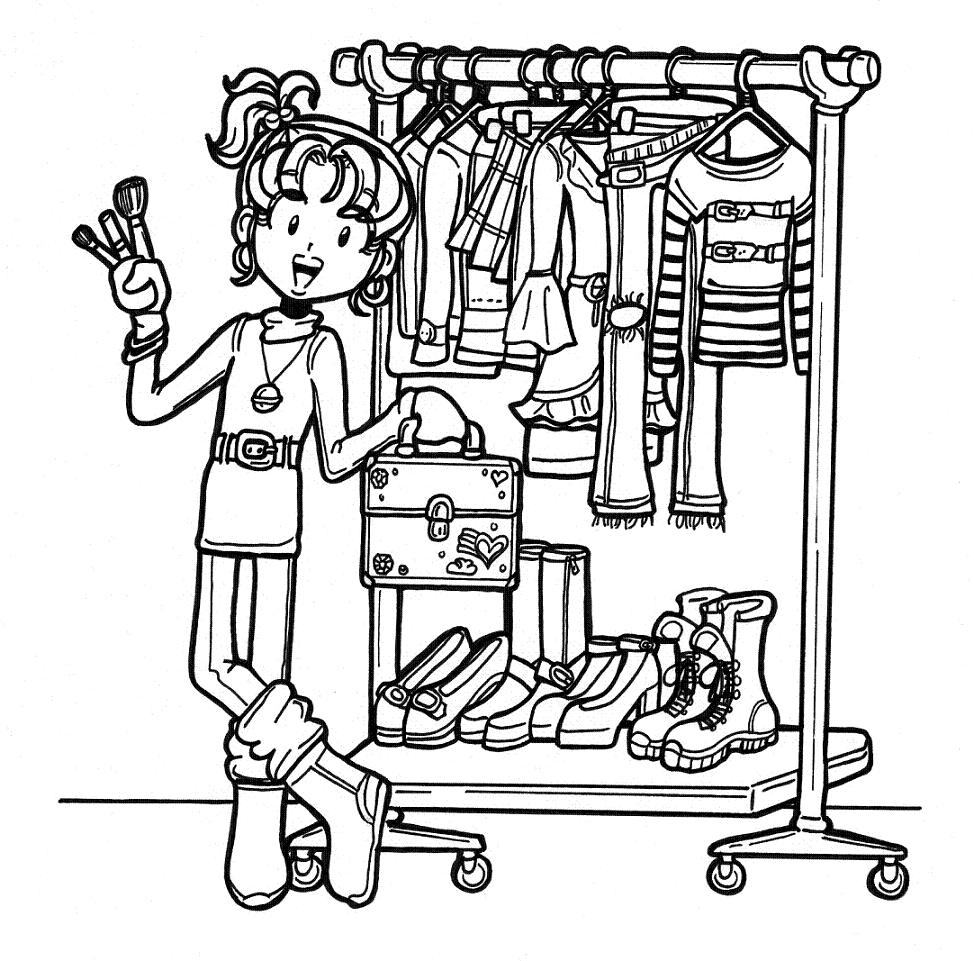 OMG I'm so excited!! Tomorrow after school I'm going to the mall with Chloe and Zoey and then they're coming back to my house for a sleepover.
I LIVE for sleepovers!! When else can you eat TONS of junk food, watch TV all night, and stay up giggling without being told to go to bed?
But tomorrow night it won't be just ANY sleepover…we're having a makeover sleepover!!
We're going to take turns doing each other's hair and nails and stuff. We're also going to trade clothes with each other so we all end up with a totally different look.
I'm thinking we should have fun with it instead of taking it seriously, so we see what we'd look like if we did something crazy dramatic that we'd never choose for ourselves. I know EXACTLY what looks I want to do for Chloe and Zoey!
For Chloe I'm thinking goth! She already has black hair, so she's basically just a goth chick waiting to happen. We'll paint her nails and toenails black. I could even draw little spider webs on them so they look totally creepy.
I have these glittery black tights I never wear. I was thinking I'd cut them, so that each leg is separate, and then put five little holes in the foot part of each. Then I'll use safety pins to attach each one as sleeves on a black tank top.
So it's basically see-through black sleeves that she can put her fingers through like gloves.
Then Zoey will have to let her borrow this lacey, frilly skirt that she wore as a witch one Halloween, and I'll let her borrow this big platform shoes I wore in a talent show skit once.
We'll have to give her super dark make up with thick eye liner, and of course white looking foundation so she looks like death on heels.
I was thinking we'd get these colored clip-in hair extensions I saw at CVS. They have purple and hot pink, which I think would look awesome!
And then to top it all off, I'd give her some scary tattoos, like a vampire Care Bear or a possessed fairy.
Sounds awesome right?
For Zoey, I was thinking we'd go with a Hollywood glamour look. The most important thing for this is the hair and the dress.
For the hair, we have to do a fancy up-do, like a French twist, or we can keep it down with soft curls. Think Lady Gaga on New Year's Eve, without the pizza-sized glitter mask.
And then of course she'd need bright red lips that make her look like someone punched her in the mouth. Nothing says glamorous like a smile that looks like its bleeding!!
For the dress, we need something that's like a prom dress. Since I don't have a time machine to thrust me into 2016, I don't have one of those…but I know someone else who does!
My mom actually saved hers, which she wore at some point in the 80s….and that's kind of totally obvious! It has these HUGE puffy sleeves, like Cinderella's ball gown on steroids.
And the skirt part has all these pink ruffles and layers. Truthfully, it's a little cruel to make Zoey wear this, but she's kind of fierce…I'm sure she can rock it!
So those are the looks I have in mind for them. I wonder what they'll think up for me! Maybe I'll end up looking all preppy, like something out of Abercrombie and Fitch.
Or maybe they'll turn me into a Jersey Shore girl, with a skin tight dress and MASSIVE teased up hair.
What kind of makeover would you give me? And what kind of makeover would YOU want?