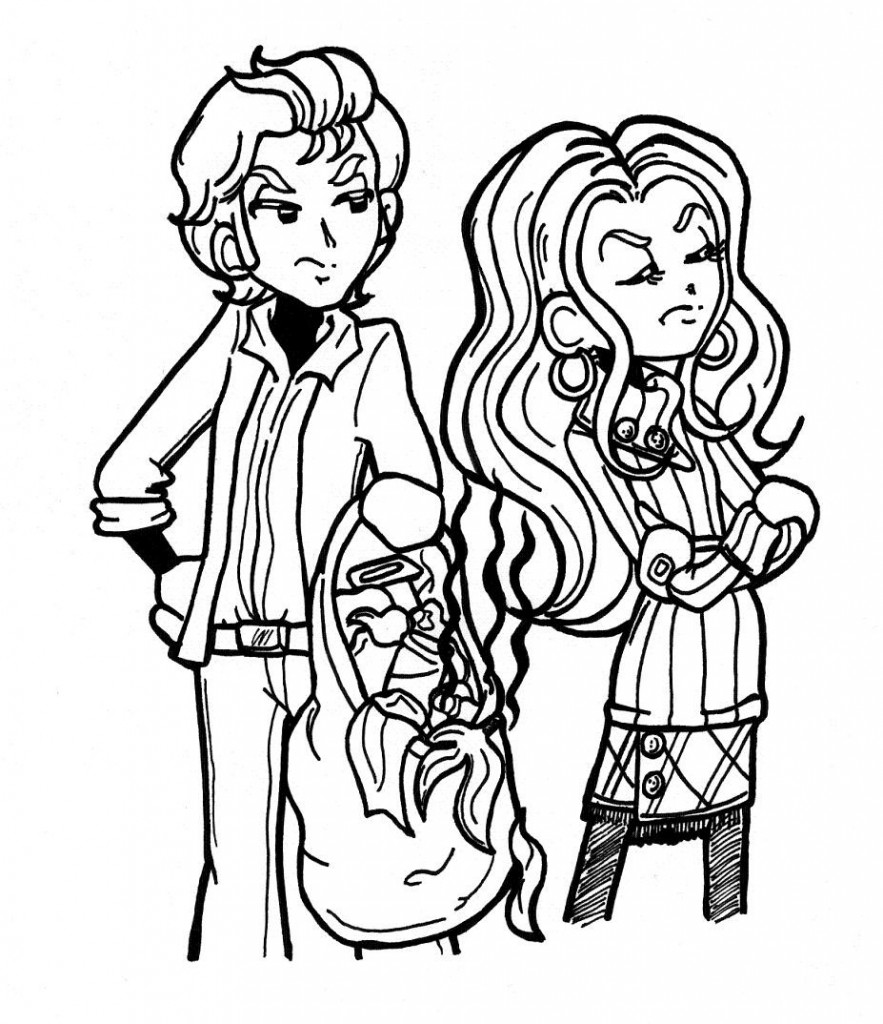 So remember the other day how I told you all about MacKenzie's TOTALLY out-of-the-blue transformation into a kind of decent person?
I know this might come as a total shock, but it turns out she was actually being nice…like, for reals!
The story is actually pretty sad. I was sitting in the janitor's closet doodling in my sketch book, waiting for Chloe and Zoey to meet me, when I heard a bunch of boys running by.
I heard them laughing about someone, but I couldn't make out all the words. All I caught was "thinks she's better than," "stuck up witch," and "she totally deserves it."
I couldn't make out the voice right away, until I heard someone snort like a pig. There's only ONE boy I know who sounds like Babe when he's cracking up, and that's Pat the rat!
I poked my head out and saw about seven other boys with Pat, and they were all headed toward MY locker. At first I almost had a full-on panic attack. Seriously, I wished my mom made me lunch so I could HYPERVENTILATE into a brown bag.
I thought they were talking about ME. I'm SO not an ugly witch, and whatever cruel, sadistic thing they were planning, I knew I didn't deserve it!
Except they weren't planning anything for me. They were planning to do something super mean to MacKenzie, and this wasn't the first time.
I didn't know this until later in the day, but it turns out Pat had a HUGE crush on MacKenzie, but she called him a loser in front of EVERYONE in their class right before Christmas break.
Since he lives right down the street from her, he must have spent the WHOLE vacation harassing her. And I guess he wrote totally cruel things on her Facebook page. (Which I wouldn't know since my mom seems to think Mark Zuckerberg is the devil and Facebook is a place where good kids go to turn bad.)
So how do I know all these things, you wonder? I followed the angry teen boy mob down to my locker, real stealth like because I was kind of afraid they were going to come after me with pitch forks if they saw me.
Instead I saw them break into MacKenzie's locker and fill it with trash from the lunchroom. After they all ran off laughing, I saw a piece of notebook paper on the ground.
Turns out it was from MacKenzie's diary. (Who knew she was smart enough to write more than just "MacKenzie Roberts" a bazillion times! I know, that was mean and bad timing….)
Anyway, the page was super sad. These boys have been TOTALLY mean to her. I'm pretty sure they put something in the hallway to make her trip the other day. Even though she's done that to ME before, I'm not a fan of seeing her being harassed like this.
No wonder she was so nice to me, Chloe, and Zoey. Pat and his little henchmen have been trying to take her down, and she probably realizes how awful it feels!
Yeah, that's what I thought at first. Until she found me reading the page from her journal, and screamed, "How DARE you defile my locker?? I should have known it was a bad idea to have a locker next to a DORK like you!"
She was seriously blaming me for shoving all that trash in there! Like I really had time to collect a ton of pudding cups, banana peels, and ketchup packets when I was SITTING IN THE JANITOR'S CLOSET waiting for Chloe and Zoey to go to lunch!
I had an air-tight alibi…I wasn't even in the lunchroom!
The principal believed me, which was awesome, but the old MacKenzie was back, which wasn't.
I always wondered why some kids are so mean, but maybe it's just because other people are mean to them. I'm not going to let MacKenzie treat me like her personal red carpet to WALK ALL OVER, but I'll definitely say something if I see Pat being mean to her.
Why? Because DORKS actually care!