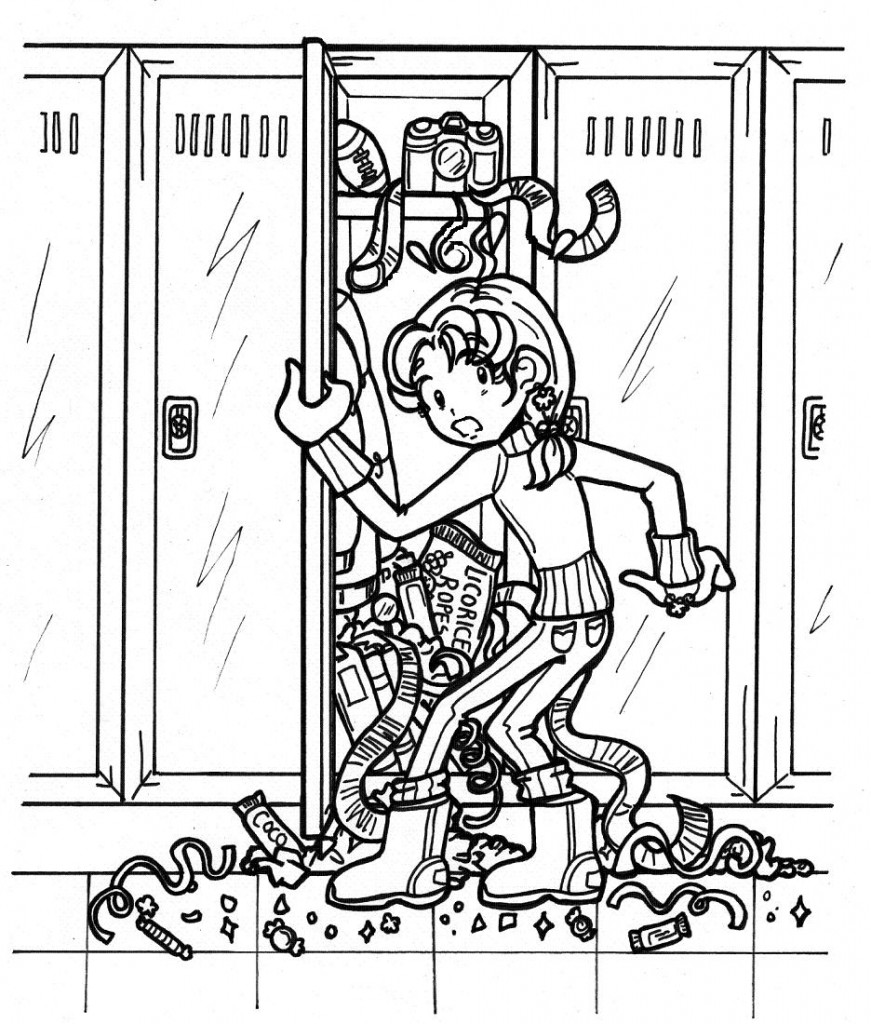 I'm sorry for the crazy suspense after my last post!
I had to run because my mom was FREAKING OUT.
Brianna was having a "Who can eat the most mayonnaise?" contest with her friend, and guess who gave her that idea?
She KNEW it made me totally sick, but what can I say? The girl wants to be JUST like me!!
Anywho, I'm sure you're DYING to know what happened with me and Brandon. In case you didn't read my last post, let me get you up to speed:
Brandon has been a little quieter than usual and I'm not sure why.  I think maybe he's stressing out over school and grades or something.  I know, I sure AM!
Anyway, I wanted to cheer him up by decorating the inside of his locker, but in an act of total dumbness, I accidentally planted my diary in there inside a huge pile of candy and assorted decorations. Then the bell rang and he was walking right toward me! That's where I left off….
When I saw him, I almost peed myself. If I didn't do something, he'd open his locker and find my diary!
I had to think quickly, so I yelled, "OMG! He just stole my purse!" and pointed down the hall in the opposite direction.
Forget for a minute that I had my backpack, and I'm pretty sure Brandon has NEVER seen me carrying a purse. It worked in Mean Girls when Damian took Cady's purse…Aaron totally ran to catch the guy.
So I figured if I accused some phantom purse snatcher, Brandon would do the same thing. And he did! He bolted down the hall to get my bag for me. He is SO sweet and awesome!!
I knew I probably had less than a few minutes before Brandon realized he was chasing no one. So I started trying to open his combination. I was TOTALLY panicked. My hands were sweating and shaking.
I felt like the WHOLE school was watching me, waiting for Brandon to come back so they could all scream, "Nikki broke into your locker and she just STOLE something from it!!"
I kept telling myself to calm down. I was like, "Pull yourself together Nikki!!" If I could, I would have slapped my own face. People always do that in the movies when someone is totally spazzing out.
Eventually I got it open, dug through all the streamers, and found my diary. Thank goodness!!!
Right as I turned around and let out a HUGE sigh of relief, I saw something that almost made my eyes bleed. Yup, you guessed it: MacKenzie!
She was standing there with her arms crossed, tapping her shoe and smiling with this creepy, demonic little grin.
She was all like, "Well, well, well….what do we have here? Looks like the GARBAGE bandit strikes again!"
I think maybe earlier that day she blew her nose and her BRAINS accidentally came out because she actually thought I broke into Brandon's locker and filled it with a heaping pile of trash, like Pat and his friends did to her.
I might not be the slickest girl when it comes to crushes, but I'm pretty sure shoving pizza crust and snotty tissues into a guy's locker does NOT qualify as flirting!
Still, she thought she caught me red-handed. She was all like, "I knew it! You found out that Brandon can't stand you, and you decided to get back at him, just like you tried to do with me!"
When Brandon came running down the hall, she yelled, "Just WAIT 'til you see what Nikki did to your locker!"
When he opened it, a ton of candy fell out. I yelled, "Surprise!" I really wished MacKenzie wasn't there, because that was SO not how I visualized that moment.
Still, I wasn't going to let her ruin it. I told him I wanted to do something nice for him because he's such a good friend, and I yelled that crazy thing about the purse because I didn't finish before the bell rang.
And then he smiled…that big, awesome Brandon smile I love.
So he didn't end up finding my diary with tons of doodles about how awesome he is, but I get the feeling he already knows that.
I may have done the dumbest thing ever, but it ended up being the BEST day ever!! 🙂