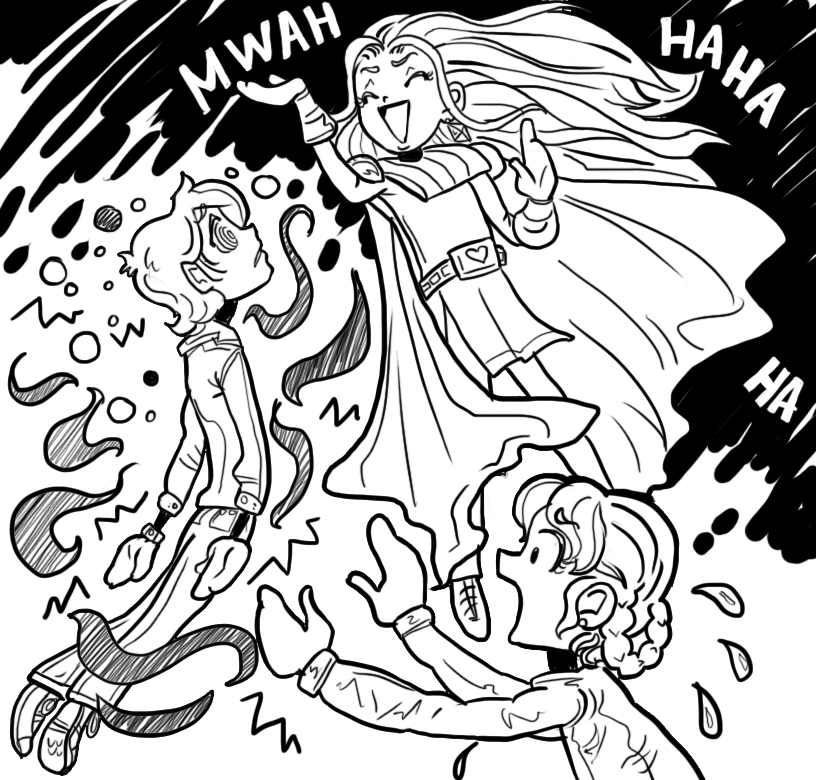 Yesterday I was TOTALLY freaking out. The Halloween dance is tomorrow, and Brandon STILL hadn't asked me!
At first I thought maybe it had to do with that thing MacKenzie said last week…how I was always SO mean to her.
When he didn't show up for the dance committee meeting after school, I thought FOR SURE he was avoiding me.
A few minutes after I got there, I realized I'd left my notebook in my locker, so I rushed to get it and almost ran right into MacKenzie.
She was standing there talking on her cell phone, with her back to me, and she was like, "I'm SO glad you decided to skip that meeting! See you in 10 minutes at the animal shelter!"
I knew she couldn't have been lying…she didn't even see me.
I felt like I was going to throw up! He ditched the meeting to hang out with HER…and at the animal shelter!? That's where WE hang out!!
When she turned around and saw me standing there with my mouth open, she hung up her phone and said, "Move dork…I have somewhere important to be, unlike YOU!"
I couldn't believe she got him under her spell!
I just imagined her standing there rubbing his arm and crying him a river while telling him more RIDICULOUS lies to make ME look like a bully…like, "Nikki tried to flush my head down a toilet!"
Would he REALLY believe a thing she says? I mean he has to know by now she's BAD, BAD news!!
I was so upset that I totally forgot to get my notebook from my locker. I moped my way back to the meeting and told myself not to cry. I mean that would have been super embarrassing. But I couldn't help it. It just seemed SO unfair!!
My eyes started getting kind of red and my lip started quivering a little. When I walked back into the room, Theodore asked if I was okay.
So I said, "Um, yeah I just have horrible allergies!" I didn't want to tell EVERYONE my personal business!
Then he asked, "What are you allergic to?" and I blurted out "chalk!"
Chalk? I'm so obviously NOT allergic to chalk. I've been around it for nine years now without a single reaction! It wasn't my fault…I was too sad to lie well!!
I told myself not to think about it so I could focus. I didn't want to let everyone down! But I couldn't help wondering if Brandon was mad at me.
After the meeting I went back to my locker. When I opened it, a note fell out. It read, "Hey Nikki. Sorry I missed the meeting. I'm at the animal shelter. Can you meet me?"
THAT'S when I REALLY freaked out! Why would he want me to come there if he was hanging out with MacKenzie? Did she pull him over to the dark side, and they were both going to do something super mean to me?
That COULDN'T be it!!
I was totally nervous, but I definitely wanted to go. I mean, I HAD to know what was up!
When I got there and walked inside, Brandon was sitting by himself playing with a puppy. I was TOTALLY confused!
He got up and said, "I'm so glad you're here! Um, so the Halloween dance is tomorrow. Are you excited?"
Then I went, "Um…yeah…"
And he said, "Maybe we can go together…"
I did NOT expect that!! I was totally doing my Snoopy happy dance inside!!
But that still didn't explain MacKenzie's phone call. Was she just lying? I HAD to ask!
I didn't really know how to do it and not sound all weird and paranoid, so I was like, "Wow that puppy looks just like a dog version MacKenzie. Speaking of MacKenzie, have you seen her lately?"
Then he said, "Yeah actually, she just came in with her mom to get a new kitten. Her mom was in a bad mood…I guess MacKenzie made her skip some big meeting to come in today."
So that explained it!
SQUEEEEEEEEE!!! BRANDON ASKED ME TO THE DANCE!!