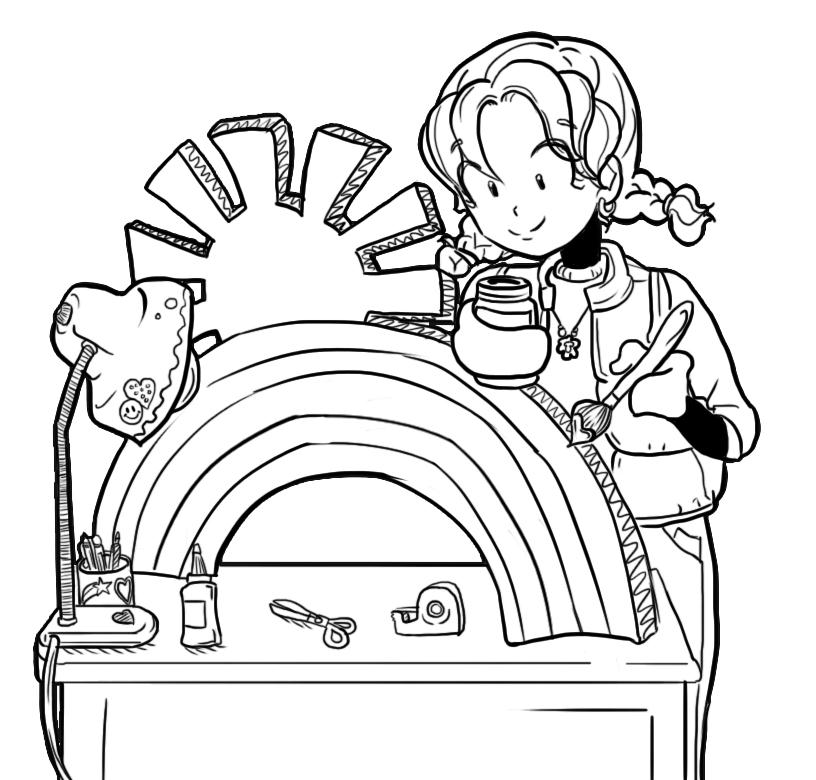 You know how I'm super creative and talented? (And modest LOL! :))
Well it turns out my mom knows, too. She asked me to make a Halloween costume for Brianna…and she's going to PAY ME for it!
I mean, how cool is that? I think she's doing it partly so I'll bond with Brianna. I already hang out with her a ton, but I'll bond with her for cash, any time!
I'm not making bank or anything…I get $10 for materials and $10 for my time. But hey, it's something!
$10 isn't really a lot for materials, though, but I see it as a challenge. It will be my own version of Project Runway. Like, sure, I can turn a shower curtain, a trash bag, and some candy wrappers into a costume!
I decided to sit down with Brianna the other day to come up with some ideas. I thought this would be the easy part. She'd scream, "PRINCESS!!!" and I'd just get to work.
Nope! I was SO wrong!
Brianna told me she wants one of the following:
-Lady Gaga's Kermit the Frog outfit (How does Brianna even know about that?!)
-The solar system (as in ALL the planets!)
-A lego house (Yup…not just one lego but a whole HOUSE!!)
-A piece of pizza
-A wizard dog (which is two costumes in one…SO not doable on $10!)
-A rainbow
It's like she purposely came up with a random list of stuff that's hard to make! I figured the last one sounded like the easiest, so I told her I could make her a rainbow.
Then she said, "Not JUST a rainbow! A rainbow with a sun that lights up!"
I had NO idea how to do that. I mean, I'm not an electrician or anything!!
I told her I could probably figure out a rainbow and a sun. Then she said, "LIGHT UP!!!"
I was going to be all like, "You'll take my rainbow and sun and YOU'LL LIKE IT!!!"
But I didn't feel like fighting, and I really wanted to do an awesome job with the costume. I figured if it looked really awesome I could maybe get some kids in school to pay me to make THEIR costumes too!
The first thing I did was go up to the attic. That's the best way to make a costume on the cheap…just use stuff you already have!
I found this big, bright yellow sheet set. Score! After I asked my mom if I could use it, I cut two suns. I figured I'd cut out the same shape in cardboard and then glue the sheet parts to both sides.
Then I had my mom take me to the craft store for cardboard and other supplies. While I was there, I found colorful felt, to use for the rainbow! I decided to make that the same way…gluing the pieces onto cardboard.
The last thing I had to figure out was the light-up part. I asked the woman at the store, and she said I'd need to buy LED lights that come with a little battery pack.
Those cost $10, and I'd already spent the $10 I had for the other stuff. I thought about how bummed Brianna would be if I didn't make her sun light up, and decided to use the $10 Mom paid me to make the costume.
When we got to the car, Mom was like, "That was really sweet of you, but I don't want you to have to spend your money." Then she gave me another $10. Score!!
All I have to do now is glue all the stuff and attach the cardboard to Brianna's black leotard. Then she can wear black stretchy pants or tights with it. I CAN'T WAIT to see her in the costume!!
I drew a little picture of it. What do you think??