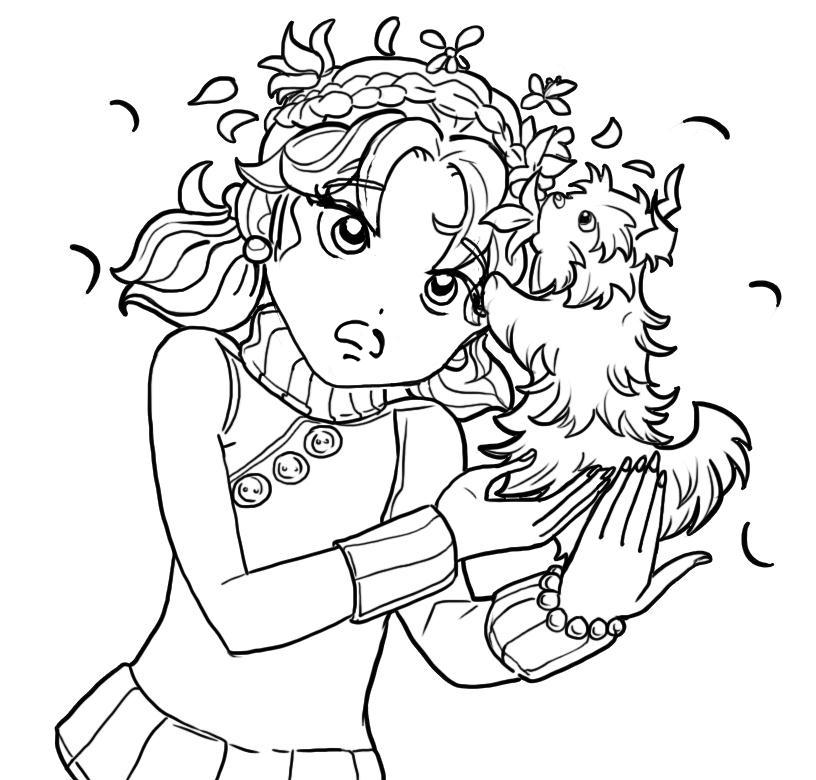 We've had one meeting with the whole Halloween dance committee so far, and it went really well! But Brandon and I decided to do a brainstorming session yesterday after school, just the two of us, at the animal shelter.
I was SO psyched!! If there's one thing I love more than planning for Halloween, it's hanging out around those adorable kitties and puppies!!
I was kind of nervous…I don't know why! I've hung out with him a ton now. It's not like we just met or anything.
I wanted to impress him, so I brainstormed with Chloe and Zoey at lunch about ways to do that.
(Yup, I brainstormed twice in one day…I love that word!! It's like a little hurricane in your head that shakes around all the bad ideas and turns them into good ones!)
We came up with three ways I could look super impressive:
1. I could do use a thesaurus to come up with some big words to put into my list of ideas. Then I'd look super smart!
2. I could draw pictures on my idea list and laminate it! Then I'd look super creative and organized!
3. I could do something fun and different with my hair. Then I'd look super cute!
Since we came up with this plan in lunch, I didn't really have a lot of time to do all this stuff!! But where there's a will, there's a way, and I had a MASSIVE will!!
I was supposed to work in the library after lunch, so that gave me some time to rewrite the list and draw some pictures.
Chloe and Zoey did this really awesome crown braid on the top of my head while I was doing that, and they even put these little fake flowers in it that Chloe had in her locker.
Then after school, before I left for the animal shelter, I stopped by the art room to laminate the list.
I learned so many new words going through the thesaurus that I decided to use some right away!
As soon as I walked into the animal shelter, I said, "It's quite auspicious that we were able to meet today!" (That means fortunate!)
I felt pretty smart, but he looked at me like I just grew a tail and started barking.
When we sat down to compare our ideas, he seemed really impressed with my pictures! I thought they came out pretty awesome.
I drew a graveyard with vampires and zombies, just like I visualized the haunted house!
He started to read the notes out loud, and said, "I'm ebullient about the dance! We have to really excogitate to make sure it's super awesome! And we don't have to be parsimonious. We have a pretty nice budget for everything!"
He looked at me and said, "Could you say that in English?"
So I went, "Uh yeah. I'm excited about the dance. We have to put a lot of thought into it, and we don't have to be cheap about it."
I had used the words to look smart, but suddenly I felt so dumb!!
Things weren't exactly going great! He got up to use the bathroom, and I decided to play with the puppies.
I got on the ground so I could hold one in my lap, but he wasn't really being playful. So I bent over to get him to come to me…and he did. Right before he jumped up and grabbed one of my hair flowers in his mouth!
OMG I was SO mortified! My braid got all messed up, and I really didn't want Brandon to see me like that!
I decided to just take the braid out. Yeah, it was pretty, but I mean we were just hanging out. I didn't need to do anything over the top to impress him. That's what MacKenzie does and it never works out!
When he came out of the bathroom he was like you, "You took your braid out. It looked pretty…It looks pretty now too."
Aww! I thought I was making a total fool of myself and that he'd think I was this big weirdo, but he was still his sweet self!
I felt a lot more relaxed after that. That's the cool thing about hanging out with Brandon. All I have to do is be my dorky myself. 🙂