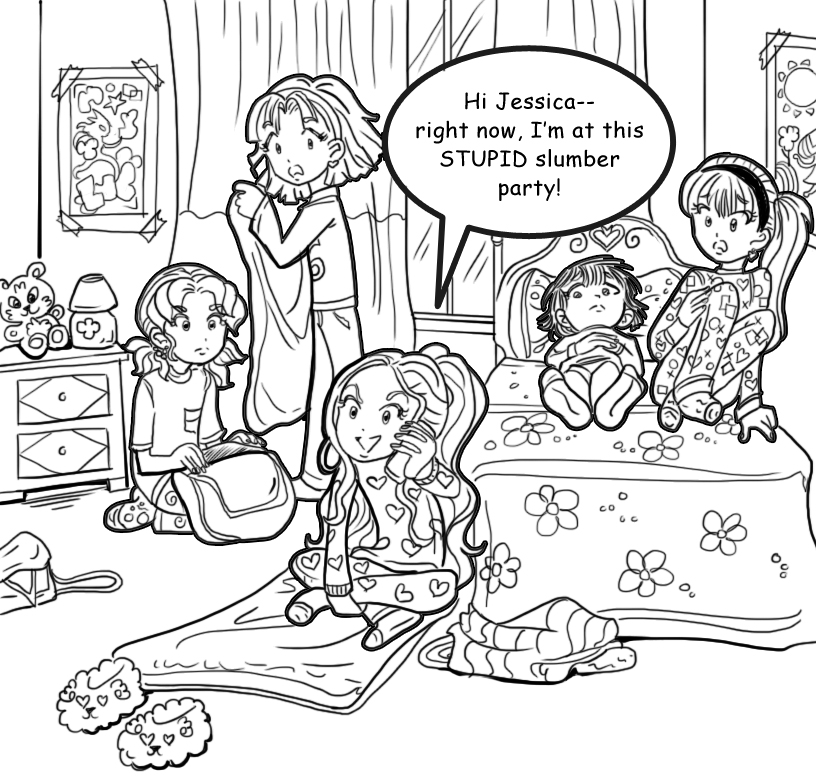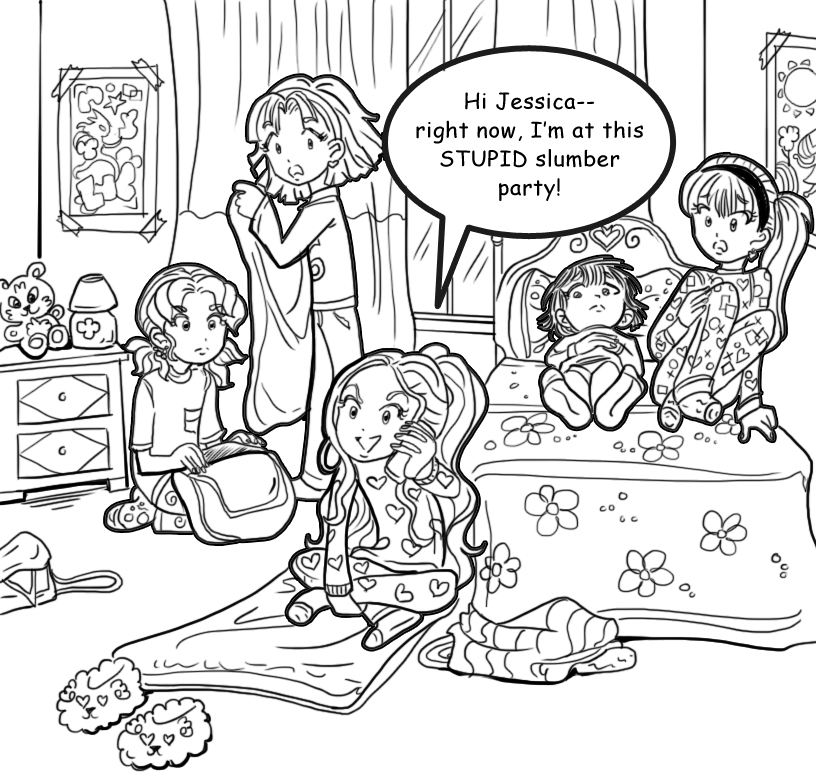 In my last blog post, I told you how Chloe, Zoey, and I went to this sleepover birthday party for a new girl in our school named Julie.
Since she had JUST moved, she was planning to have a two-person sleepover with her mom's new boss' daughter…except she'd never even MET the girl.
That would have been SUPER sad and awkward, so we were totally happy to join the party!!
Then about 30 minutes in, we met this MYSTERY girl when she rang the doorbell…it was MACKENZIE!!
To make matters worse, I was doing a "dare" when I opened the door…wearing my extra underwear on my head, because we THOUGHT it was the pizza guy ringing the bell.
OMG I almost died! I would NEVER willingly go to a sleepover with MacKenzie!
Most girls pull little pranks, like put each other's hands in cold water when they're sleeping to try to make them pee. Knowing MacKenzie, I bet she'd do something FAR more horrible, like cut off all my hair!
You can't let your guard down around that girl! It's like curling up for a nap in the lion's cage at the zoo…a DISASTER waiting to happen!
When she saw me, she screamed, "What are YOU doing here DORK!?!"
Then she said, "Let me guess…your family's SO poor that they can't afford to buy you underwear, so you broke in to steal some!"
For someone who thinks she's so smart, MacKenzie's really horrible with insults. I mean, that didn't even make any sense! If I were an underwear thief, would I really put it on my head AND answer the door??
Julie came over and said, "You must be MacKenzie. It's nice to meet you!" Then she stuck out her hand to shake hers.
It was kind of cute! I've NEVER seen someone my age try to shake someone else's hand!
Chloe and Zoey looked scared for her, like MacKenzie might bite it or something. But she did something even MORE obnoxious.
She took some hand sanitizer out of her purse and said, "Ew! You're FILTHY! Clean yourself so you can go fetch me a snack!"
I was thinking, "Dirty? Her hand looks clean to me! And fetch you a snack? Um, she's not your MAID!!"
Julie must have felt super intimidated, because she grabbed the hand sanitizer, squirted some in her hands, and then looked down at the floor, like she was all embarrassed and nervous.
The pizza guy came about 10 minutes after that. We'd ordered pepperoni…because it's AWESOME!
But MacKenzie screeched at Julie, "I want CHEESE! Take the pepperoni off DORK!"
We were all STARVING, but NONE of us could eat until MacKenzie had her perfect pepperoni-free piece.
Still, that was NOTHING compared to what MacKenzie did after we ate!
We decided to watch a movie in Julie's bedroom. MacKenzie sat in front of all of us and kept getting up and stretching so we couldn't see the TV.
In the middle of the movie, her cell phone rang. She answered it, without even saying, "Hey, press pause for a second," and started talking about all of us SUPER loudly.
She was like, "My parents made me go to this LAME sleepover with three of the school's biggest DORKS, including this new girl Jamie! I can't WAIT to go home tomorrow!"
That girl is SO rude! First, she got her name wrong, and then she insulted ALL of us, even though we were all right there!
She was TOTALLY ruining Julie's birthday, so I decided ENOUGH WAS ENOUGH!
I grabbed MacKenzie's phone and turned it off. Then I said, "Hey, guess what? You don't have to wait 'til tomorrow. You can go home RIGHT NOW!"
Chloe, Zoey, and Julie looked shocked that I actually had the nerve to say that…but someone had to do it!
After that, MacKenzie screamed, "I will!" and stormed out while calling her mom for a ride home.
The sleepover was a lot better after that…especially when we had the birthday cake (chocolate…yum!)
I can't believe I ended up at a sleepover with MacKenzie. That will NEVER happen again!