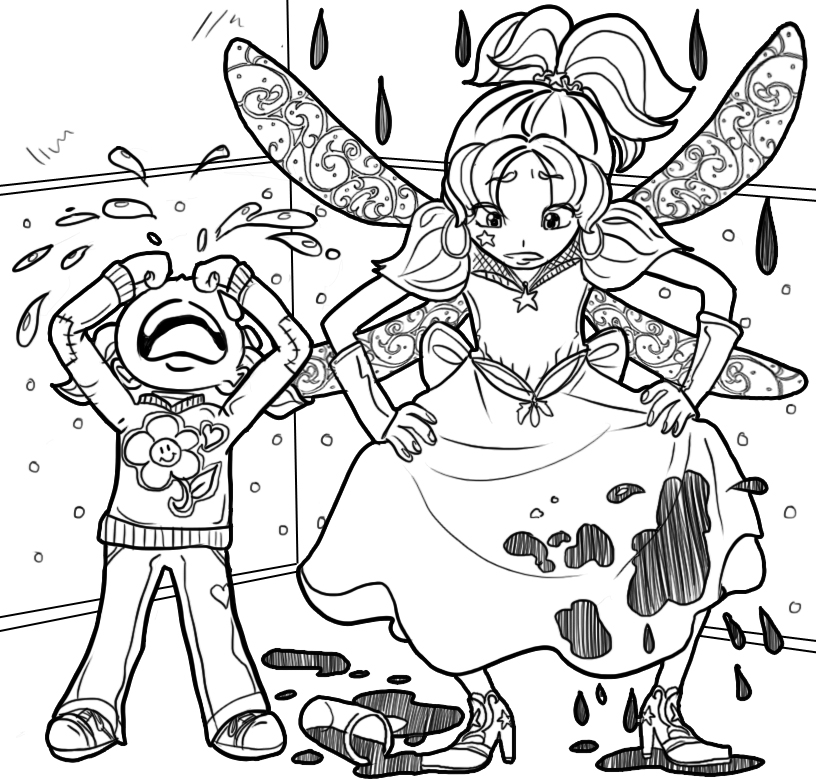 I was SO excited for the Halloween dance! First of all, I spent a TON of time on the costumes I made for Chloe, Zoey, and me.
Secondly, I spent a TON of time planning it with the dance committee.
And lastly, I spent a TON of time waiting for Brandon to ask me…and he did! I couldn't wait to dance with him!!
Earlier that night, Chloe and Zoey came over so we could all get ready together.
We put white makeup all over Chloe's face, big black circles around her eyes, and red dripping from her lips (because she was a zombie bride).
For Zoey, we put green makeup around her eyes, to make it look like scales (because she was a mermaid).
Then for me, we did these swirly, glittery things around my eyes in pink and purple. It looked TOTALLY fairy-like!
We were drinking this red punch and eating candy, to get in the Halloween mood, and we decided to practice the Thriller dance, since we knew that song would play later.
I put my punch down on my nightstand to dance, but halfway through I got thirsty. (Pretending to be a zombie can take a lot out of you!)
Just when I picked up my cup, Brianna ran in crying and knocked right into me…getting punch all over my white fairy costume!
I almost FREAKED OUT!! We were supposed to leave in about 25 minutes, and I knew Brandon would be waiting for me. But my costume was a COMPLETE mess!
Still, that wasn't the worst part. When I asked Brianna why she was crying, she said, "Mom's sick and can't take me trick or treating!"
I knew my mom had a migraine earlier, but she'd told my dad she'd be fine, and that he should go to the annual Bug Ball like he'd planned.
(It's this big exterminator Halloween party…and my Dad went as a massive spider… Parents are so weird sometimes!)
I just KNEW what was coming next!
"Nikki, will you take me trick or treating??"
I WANTED to say, "Sure…TOMORROW! Have fun watching Hocus Pocus tonight!"
I mean, I had to get going…I PLANNED the dance, and Brandon was expecting me!
But then I saw her sad little puppy dog eyes, and I imagined her telling a therapist some day, "It all started the day my sister ABANDONED me on Halloween!"
I couldn't TRAUMATIZE her by making her sit alone all night!
I told Chloe and Zoey, "I can't go you guys. My costume's ruined, and I have to take Brianna around the neighborhood. I'm going to text Brandon."
I really wanted to cry, but I didn't want to smudge my awesome swirly makeup. If I had to go out without a costume, I wanted my face to look REALLY cool!
Then Zoey said, "I'm coming with you!" And Chloe said, "I have to take care of something. Come back here in an hour and I'll do the rest of the route with you!"
That was so sweet of them!!
Zoey and I took Brianna out for a bit, and she almost FREAKED OUT on one of our elderly neighbors. (In Brianna's defense, the woman DID try to give her raisins, and that should be against the law!!)
When we got back in an hour, Chloe said, "Here put this on…Brandon's on his way over!"
She put punch over my whole costume so that it looked tie-dyed pink…it was such an awesome idea!!
Chloe and Zoey were in the kitchen with Brianna when Brandon knocked on the door. He was in a pirate costume, and he looked SO cute!!
When he saw me, he got this huge smile on my face and said, "Cool wings!"
I was so psyched that he liked them. I spent FOREVER on those!
All of a sudden, the monster mash came on (but it was pretty quiet…my mom was still in bed with a migraine!)
Chloe came in and said, "We're going out with Brianna for a bit. You guys should dance!"
And we did! At first I was totally bummed out about everything that went wrong, but the night turned out awesome anyways. I'm so lucky to have such amazing friends!!