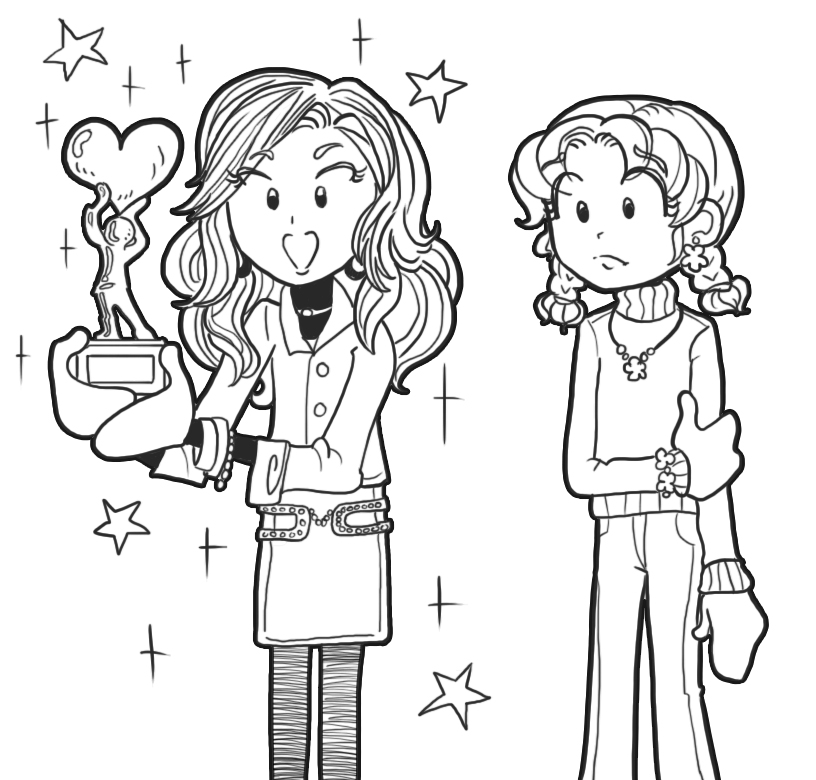 Remember last week, how I was SO sure I knew what award I won? Turns out I was TOTALLY wrong!
Yesterday morning, everyone was talking about this big assembly we were going to have in the afternoon.
I was mostly psyched because I'd get to miss math…then I found out what the assembly was for: a super important award ceremony!!
No one knew what kind of award it was, or who won it….except me!
MacKenzie was FREAKING out at her locker because she couldn't find her lip gloss.
She's SO delusional!! She screeched, "I can't walk onstage to receive my award with NO lip gloss! This is SUCH a nightmare!"
Losing a lip gloss is SO not a big deal, but it WAS a nightmare…MY nightmare, because her screechy voice was driving me crazy!
I couldn't believe she just ASSUMED the award was for her. I mean, I guess it COULD have been, if the award was for "Nastiest human being to ever walk the planet"!
I really wanted to tell her that it was for me, but I thought it would be way more fun if she stood up in the auditorium, thinking it was for her, and then heard MY name!
Playing along, I said, "Wow that's so awesome you won an award! What's it for?"
Then she shrieked, "Can't talk DORK! I have an acceptance speech to write!"
I hadn't even thought about that! I needed to write an acceptance speech!!
I definitely didn't want to get up onstage and then stutter, "Um, thanks. You know, for the award, because I won, and I'm, um, really thankful!"
I decided to spend lunch writing my speech, but it was super hard, since I still wasn't sure what the award was for!
Chloe and Zoe helped me come up with something generic, so it could work for all of the different possibilities they came up with (or the one I came up with, about my advice column).
It went like this:
"Wow, this is such a surprise and a tremendous honor! I've always taken great pride in my ART/SINGING/LIBRARY WORK/ADVICE.
I've been doing ART/SINGING/LIBRARY WORK/ADVICE for a very long time now, and I'm so pleased that I've been able to HELP/ENTERTAIN/INSPIRE so many people using this skill.
I'd like to thank INSERT TEACHER WHO NOMINATED ME for always believing in my potential.
I'd also like to thank CHLOE AND ZOEY/THE OTHER MEMBERS OF DORKALICIOUS/THE NEWSPAPER STAFF. Without their FRIENDSHIP/TALENT/SUPPORT I would not be standing here today!
I know every one of you has a special talent, like my ART/SINGING/LIBRARY WORK/ADVICE, and I imagine you want to win an award some day too.
So I leave you with these words or wisdom from Harriet Tubman: 'Every great dream begins with a dreamer. Always remember you have within you the strength the patience, and the passion to reach for the stars and change the world!'"
Zoey told me to put that last part in. That girl's like an encyclopedia for inspiring quotes!
In the beginning of the assembly, Principal Winston said, "We're here today to honor a very special student who has done exemplary work over the last few months."
I got SO nervous that I thought I might hurl!! I was really glad I memorized my speech so I wouldn't look like a huge dork up there!
Then Principal Winston continued, "Come on up here Nikki…"
And I stood up right before he said, "Masters!"
The award wasn't really for me! It was for Nikki Masters, this social butterfly do-gooder girl who's like the Selena Gomez of WCD!
OMG I was SO embarrassed!
But there was a silver lining. Chloe and Zoey felt so bad that they granted me an "Overall awesomeness award" in our own little ceremony after school.
So I didn't win an award…but I still feel pretty special! 🙂