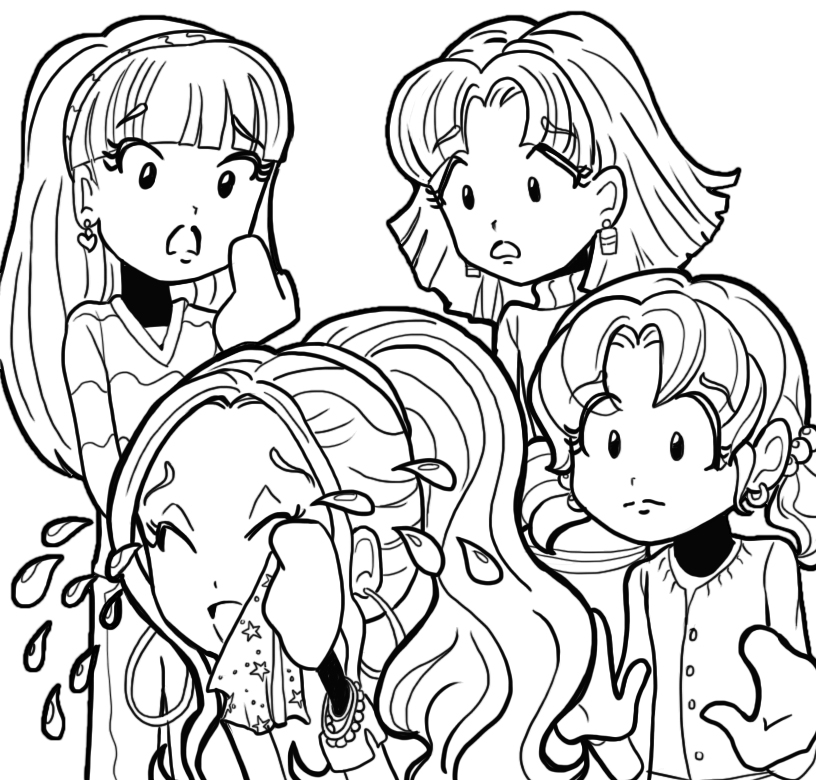 It's official!! MacKenzie won't be able to blackmail me into missing Brandon's birthday party because that embarrassing video is GONE!!
And I didn't even have to sneak into her room and steal it!
Actually, I feel pretty bad about the situation, even though I'm psyched that this whole video nightmare's over for good.
Here's what went down: Yesterday morning I saw MacKenzie standing in the hallway looking like she was about to cry.
I figured she broke her nail or lost her lip gloss or something, so I walked by her pretending to play a tiny violin, just like she did to me!
I only lasted about three seconds before I felt super mean. No matter how hard I try, I just can't be evil like that!
I dropped my tiny imaginary violin just as she looked up and screeched, "What are you looking at, DORK?!"
I didn't actually answer her question. I saw her red, raw eyes and decided instead to ask, "Are you okay?"
She screamed, "NO, I'm not okay! It's all gone. My laptop, my phone, my favorite purses, even my makeup…ALL GONE!"
Right then, Jessica ran over, grabbed MacKenzie's hand, and pulled her into the girl's bathroom.
I was SO TEMPTED to follow them in to hear more about what happened, but I was kind of scared. MacKenzie looked SO angry that I thought she might breathe fire or something!
Later that afternoon, I was sitting with Chloe and Zoey in the janitor's closet when all of a sudden the door opened.
MacKenzie slowly backed in and started crying. She didn't see us at first, since her back was toward us, so she had NO IDEA we were sitting right there, watching her bawl her eyes out.
Finally she turned around, sniffling, and practically jumped because she was so shocked to see us.
She whimpered, "What are you…? I was just…rehearsing for the school play!"
That didn't make any sense, since there's NO school play going on right now, and no auditions coming up.
Chloe, Zoey, and I just kind of stared at her in silence, not knowing what to say. We figured she'd eventually turn around and walk out…after all, she NEVER gives us the time of day, and we all knew she was lying about the play.
After a few super awkward minutes, she tossed herself onto the floor next to us and told us EVERYTHING.
"I forgot to lock my house door when I went out yesterday afternoon, and a burglar came in and stole EVERYTHING, and my parents are so mad at me, and Jessica's mad at me because I borrowed her iPad without asking, and that got stolen too!"
She started crying SUPER LOUD again. Her makeup was all over her face, and her nose was running too. I actually felt totally bad for her!
Then she whined, "Jessica's not talking to me and she's making up rumors about me. What did I do to deserve this?? I'm SUCH a good person!!"
I WANTED to say, "Girlfriend, you're delusional!" 'Cause it would be easier to make a list of mean things she HASN'T done than the mean things she HAS done…that's how long her list of horrible offenses would be!!
But I didn't want to kick her when she was down…and I thought maybe THIS could be the start of Operation Make MacKenzie a Decent Human Being!
If Chloe, Zoey, and I were SUPER nice to her in her time of need, I thought FOR SURE she'd realize how nasty she's been and turn over a new leaf!
Chloe, Zoey, and I did our best to cheer her up.
Chloe said, "Don't worry…Jessica will come around. After all, she's your best friend!"
And Zoey said, "You'll get new stuff…your family's super rich, remember??"
We even did jazz hands to make her smile! It worked! MacKenzie actually smiled…at us!!
Before she walked out, she said, "Thanks dorks. Sorry, force of habit. Thanks."
I hope this is the start of a whole new MacKenzie!! But even if it's not, one thing's for sure: Nothing's going to keep me from Brandon's birthday party!!!