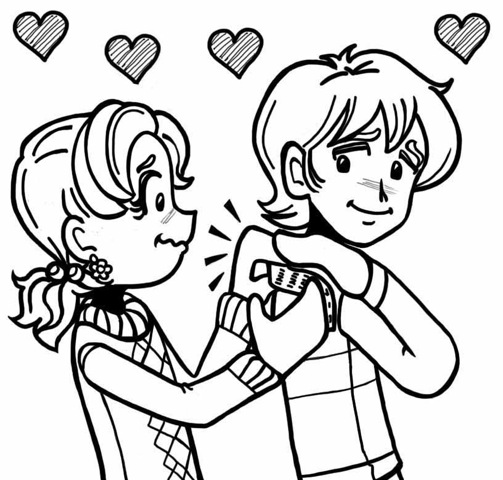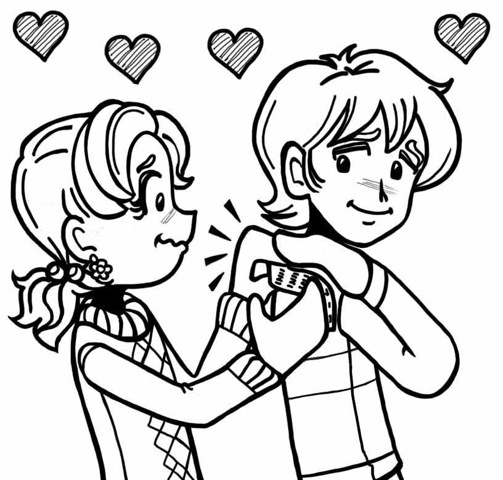 OMG! I am SO embarrassed!!! I was desperate for a cell phone for so long, but now it's clear that I can't be trusted with one!!
No, I didn't run up an insane texting bill or anything like that. I did something even worse!!
Last night I was lying on my bed thinking of Brandon. He looked SO cute in school yesterday!
He was wearing this really nice new shirt. No, I'm not some creepy stalker who knows his entire wardrobe. It was just that his shirt had one of those stickers with the size on it. I guess he forgot to take it off.
So in lunch I walked up to him and said, "Looks like you forgot something!"
I reached in to pull the sticker off for him, and he reached to pull it off at the same time, and then we totally touched each other's hands for a good few seconds.
I know that's just a silly little thing, but my heart started racing super fast.
I got a CRAZY case of RCS! (You know, roller coaster syndrome.)
After that we both started giggling, and staring at our feet, and then looking at each other and giggling again.
I could tell from the super hot feeling under my skin that my face was as red as a big glob of ketchup, and I didn't want to just stand there looking like a massive dork, so I said, "I have to go to the bathroom!"
That was even more embarrassing! I couldn't have just said, "Zoey needs me!" or "Talk to you later!"
Anyways, last night I was thinking about this whole situation…the way we touched hands, and we both giggled at each other, and then the embarrassing thing I said.
I was in need of some expert crush advice, so I knew EXACTLY who to turn to…Chloe!
Since it was kind of late to call, I decided to send her a text. I wrote:
I had a crazy crush situation today!! He just looked SO cute! You up?
Then I sent it…to BRANDON!!
Their names are right next to each other in my phone because Brandon starts with B and Chloe starts with C!
I knew what I did right away. I just text so fast sometimes! I totally need to slow down and pay more attention to what I'm doing!
I started FREAKING OUT! I imagined him lying on his bed, reading the text, thinking…well, actually I had no idea WHAT he'd think. And that was the worst part!!
He could have thought it was a mistake and the text was meant for someone else.
Or maybe he thought I had a crush on someone else, and I consider him SUCH a good friend I was looking for his advice about it.
Or maybe he was asleep and didn't even see it yet. It WAS pretty late, after all.
Still, I DEFINITELY didn't want to feel totally awkward the next time I saw him!
After a few minutes of panicking, I decided to send a second text. I wrote:
Sorry Brandon! I didn't realize Brianna had my phone!
That didn't really make a ton of sense. I mean, first of all she's six. She doesn't usually text! And second of all, even if she DID, she'd have no reason to text something about a cute crush to Brandon!
He never wrote back, and when I saw him in school today he didn't say anything.
I didn't want to make things even worse by saying, "Hey, so did you get that embarrassing text I didn't send and then the other one explaining it?"
So I just said nothing! Do you guys think I should say something to him about it? Or just pretend it never happened?
I'm SO mortified!!