NOTE: My regularly scheduled blog post (you know, Part Two of the riveting cliffhanger about why Brandon is sad!) has been preempted to bring you this VERY important announcement and update…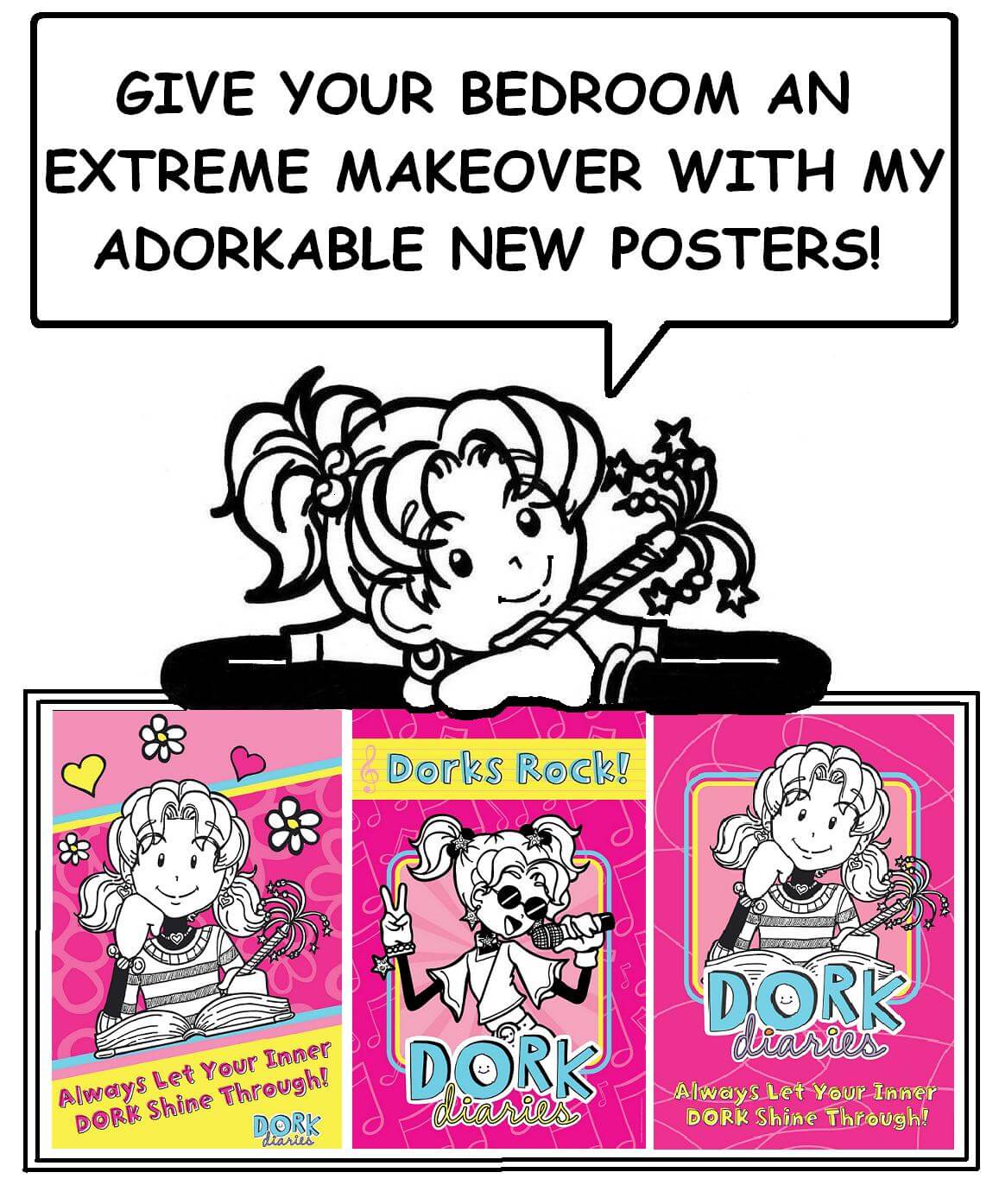 BUY YOUR VERY OWN DORK DIARIES POSTERS HERE! 
Today I personally got some good news and some bad news!
First, the BAD  news!  Since I couldn't convince my bratty little sister, Brianna, to runaway and join the circus, it looks like I'm going to be STUCK babysitting her for the ENTIRE summer.  AGAIN :-(!
Now for the GOOD news! As a compromise, my parents agreed to let me start my very own business selling krazy-cool, original poster artwork drawn by a super-talented, up-and-coming young artist!
Namely, um…ME :-)!!
So, if you'd like to give your bedroom a very cheap, EXTREME MAKEOVER, you can nab one of my totally ADORKABLE posters.  Hey, it would almost be like we're actually ROOMMATES or something since I'd be hanging out in your room with you! SQUEEEEE! Although, technically, I'd be hanging…on your, um, WALL.  But, still.  How cool would THAT be?!
 Now, I bet some of you are probably saying, "Hey Nikki, what about those posters you were supposed to mail out to the winners of that Word Search Game thingie from, like, 12 years ago?!  I mailed in my entry and I've been patiently WAITING, like, FOREVER!!  So Nikki, what's up with THAT?!"
Okay, to be very honest, I'm super embarrassed about that whole  situation.  But, over the past year, I've had tons of homework and other school stuff, like the talent show, charity skating event, newspaper staff, Valentine Dance, etc.  So, all I can do is hope that you'll accept my sincere apology for the really long delay in mailing out your posters.
But, PLEASE don't be mad at me because, um, well, because…
I FINALLY MAILED OUT YOUR POSTERS :-)!!!!!!!   SQUEEEEE!!!!
All of my Word Search poster winners (and you know who you are!) should be receiving your posters any day now. And, if you guys want a sneak-peek, it's the one shown above on the far right!  Don't I look sooooo CUTE?!!
Anyway, when you finally get your poster, please come back here to my blog and tell me what you think.  Or, you can post your comment on Facebook or Twitter.  I can't wait to hear from you!
For those of you who missed the Word Search contest, you can STILL buy your very own Dork Diaries poster by clicking on the link below and purchasing it online:
BUY YOUR VERY OWN DORK DIARIES POSTERS HERE!
But, it's ONLY while supplies last (and I'm not too busy to make them)!
Just remember to  NAG your parents!  get permission from your parents first :-p!
Which of the three posters above is your favorite and why?  Do you have any cool ideas for a poster that I could make?