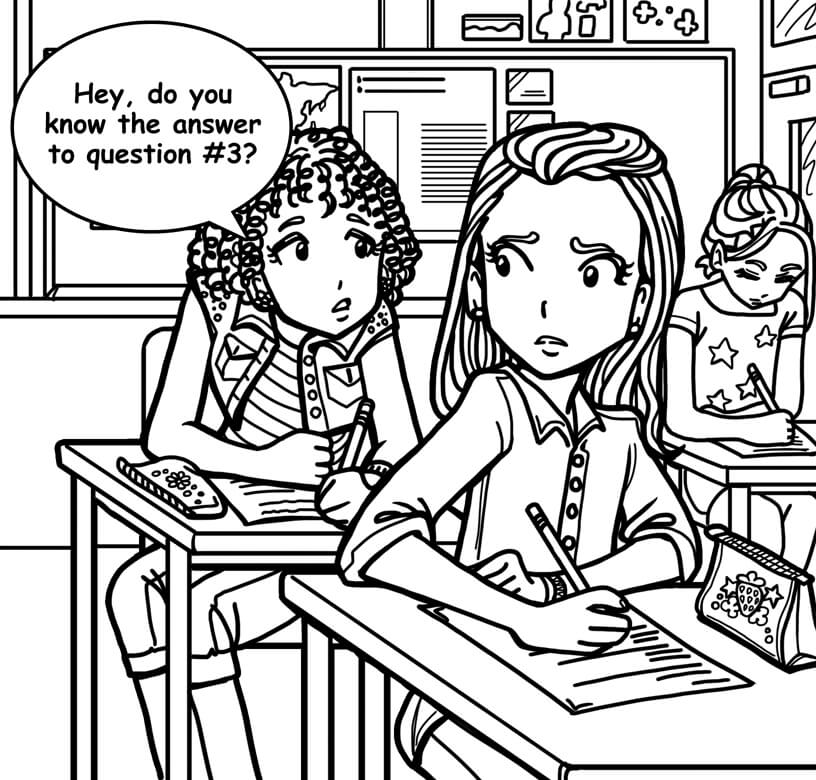 My friend who sat next to me in school always wanted my help. She always took my bottle and drank all the water, leaving me thirsty. Then, she'd ask to borrow money. Then, when we had a geography exam, she begged me for the answers.

I was known as naive at school, so people always approached me for help, but the girl who sat next to me wanted my help all the time! I wanted to be harsh sometimes, but I just couldn't, because I like to be nice. People were trying to use me! I am just so tired helping people. What should I do?

Elizabeth
Hi Elizabeth! Let me start by saying that you seem like a SUPER NICE person! If you went to MY school, I think we'd be total BFFs!
I'd NEVER use you, but it sounds like not everyone in your school has dork-worthy morals!!
I mean, it's pretty rotten that the girl who sat next to you expected you to cheat for her. You could have BOTH gotten into major trouble!!
I think the kids you're dealing with know that you're nice, so they push to see just how much they can get from you.
Brianna does it to me pretty much all the time. She'll cry and scream and whine until I let her hang out with me in my room.
But then as soon as I say it's cool, she'll cry and scream and whine that I'm not letting her wear my clothes. (I want to say, "Dang! Can I LIVE! Back off and stop trying to BE me!" but that would make me mean…and I'm nice, like you!)
Anyways, my point here is that sometimes people are all take-take-take, and they don't even try to balance things out by giving too.
That's where two little letters come in pretty handy: N and O!
The good news is that you can use these two awsome little letters and STILL be nice! I've written below a few short scripts so you can start nice-no-ing today!
SCRIPT ONE:
GIRL WHO SITS NEXT TO YOU: Hey Elizabeth! I forgot to study last night! Can you give me the answer to question two?
YOU: Sorry, but no! Cheating just isn't my thing. Still, I appreciate that you think I'm smart enough to cheat off of!
SCRIPT TWO:
RANDOM GIRL: Hey Elizabeth! Can you hold my books while I look in my locker mirror and apply lipstick?
YOU: Sorry, but no! I appreciate that you've noticed I'm super awesome at holding books, but I have to use those skills on my OWN books while walking to my next class!
SCRIPT THREE:
RANDOM BOY: Hey Elizabeth! Can you give me your sandwich so I can save my lunch money? I'm hoping to get a new iPhone soon!
YOU: No! Bye!
OK, so it was hard to say something nice after that last one. The nerve of that kid thinking HIS new iPhone was more important than YOUR health!
Anyways, you get the point! And if you don't, here it is, summed up: You can still be nice to other kids while also being nice to YOU…and being nice to you means saying no every now and then!
What do you guys think? Do you have any advice for Elizabeth?