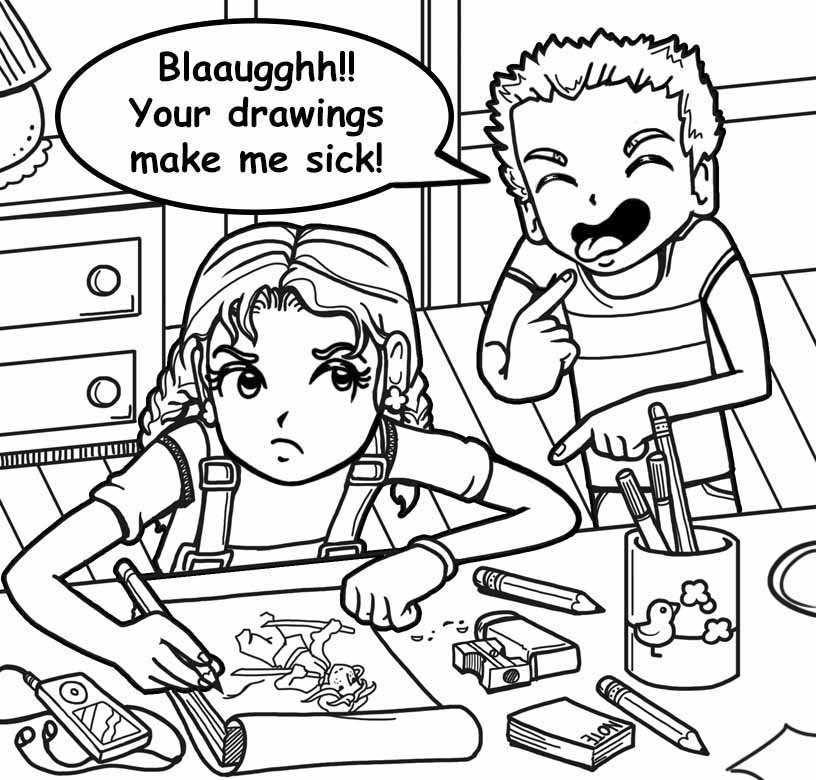 My younger brother Aidan is always hurting my feelings. Also, it's hard to tell anyone because they don't believe me. He says that I am a horrible artist and swimmer, and those are things I like. He also yells at me for no reason! I already tried ignoring him and telling him to stop. What should I do?

Laura
Hi Laura! That's totally lame that your brother's being mean to you like that.
If someone told me I'M a horrible artist, I'd be pretty bummed out! (Actually, someone has…MacKenzie! But I value complete strangers' opinions more than I value hers!)
Anyways, back to your brother. It's possible he could just be jealous of you.
Maybe he actually thinks you're a really good artist and swimmer, and wishes HE could be as good as YOU are.
Or maybe he wants your attention, and he thinks he can get it by being mean.
I know you said you've already tried ignoring him. What about trying the opposite?
Next time you see him swimming, tell him he's a really good swimmer.
Or if he's drawing something, tell him he's an awesome artist, and ask him to teach you how to draw whatever he drew.
I can't say FOR SURE this will make him go from complete and total bully to nice and normal younger brother, but it's possible he'll treat you a lot better when he thinks you like and appreciate him.
It worked for me with Brianna! This one time I caught her ripping up something I drew (which should be against the law!!).
Then I remembered how she tried to show me something SHE drew earlier in the day, and all I'd said was, "Nice. Chloe's calling…now go play with Miss Penelope!"
The little rug rat just wanted some Nikki love. Maybe your brother does too! (Well, Laura love…that would be weird if he wanted it from me!)
So that's my advice: Give him some attention, and treat him the way you want him to treat you.
What do you guys think? Do you have any advice for Laura?