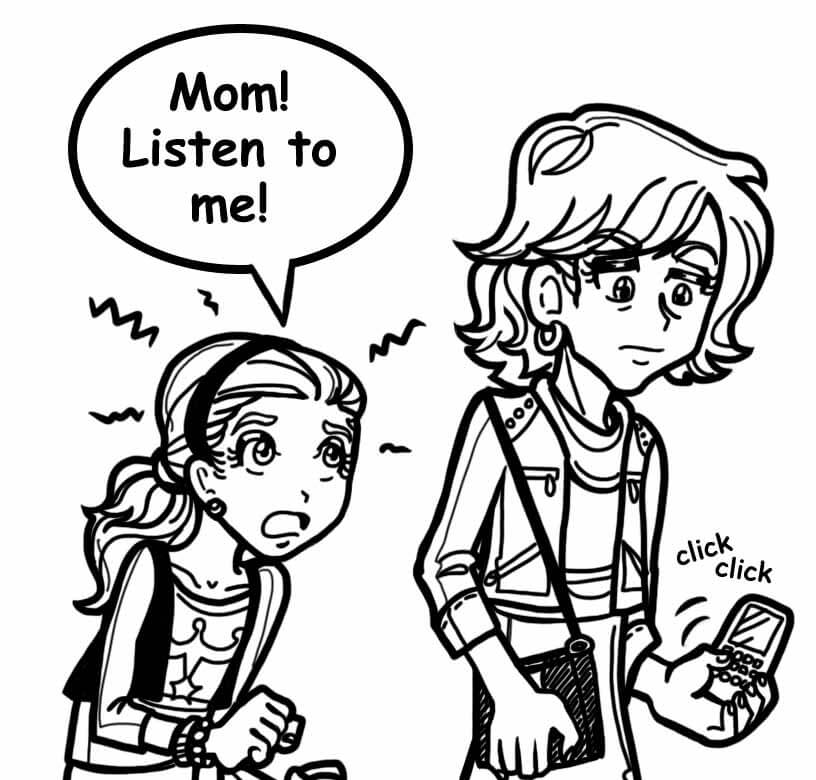 Okay, so my mom isn't exactly the nicest person ever, but she won't even take the time to listen to me. I'll say, "Hey Mom. Mom. Mom." And this just goes on for a while until she screams, "WHHHHAAAAATTTT?!!?!" On top of that, she always looks at her phone and ignores me. All she ever does is text people.

My best friend has a five-year-old stepbrother named Eli, and she LOVES him. One time I was swimming at my grandma's house and I don't swim perfectly, but I'm really good.

I had new goggles and a snorkel. I hate swimming under without goggles, so I never did. My mom was there and said, "Eli can go underwater without goggles," and I said, "So can I, I just hate it." She kept bragging about him, so I finally lost it and yelled, "Well maybe Eli should be your son then." And she said, "Yea, he should." So I jut ignored her.

When we were leaving, she asked, "What's wrong? And I thought, "Really?!" So we're really have communicating problems. Please help!

Madison
Hi Madison! I wish I was there so I could give you a HUGE hug, because based on what you wrote, it sounds like you're dealing with a pretty tough situation!
You DEFINITELY don't deserve to be ignored when you're talking, and I'm sure you're an amazing swimmer. Even if this Eli kid could walk on water, that wouldn't change how awesome YOU are, too!
Now, I don't mean to dis your mom or anything, but it's like this…
Everyone makes mistakes sometimes, and that means adults, too.
When she ignores you while she's texting, and then yells at you for trying to get her attention, that's a mistake.
And when she says stuff that makes you feel bad about yourself, that's a mistake, too.
She might not REALIZE it's a mistake, but take my word for it…IT IS!
Now, I'm not saying you should call her out by SAYING she's making mistakes. I just want you to know that in my book, when someone acts like this, it's not right…whether it's a kid or an adult.
So now to answer your question: How do you deal with these "communicating" problems? Since Zoey's the queen of self-help, I asked her what she thinks about this one. (I hope you don't mind!) Here's what we came up with!
Your mom probably has a lot on her mind, or maybe she's kind of stressed out about stuff she can't tell you about.
It doesn't make it cool or anything, but when someone yells for no good reason or says mean-spirited stuff, that's usually why.
Maybe it would help to wait until she's nowhere near her phone and seems to be in a good mood. Then you could sit her down and explain how you feel.
Just be totally honest! You could say, "When I try to talk to you, but you ignore me and then yell at me, I feel like you're mad at me for wanting your attention."
Then you could ALSO say, "Or is there something else you're mad about? Is there anything I can help with?"
If you come to her acting this mature AND you're nice and understanding, she'll probably be much more likely to understand what she's been doing and how it affects you.
You could also say something like, "When I want your attention and you seem busy, maybe I can ask you if we can talk in 10 minutes or something."
This way, you're asking her to create some kind of solution for the future…one that's considerate of her, so SHE might be more likely to be considerate of you.
I really hope this stuff helps you! Zoey said she wants to leave you with this: "Tough times never last, tough people do." Robert H. Schuller.
I don't know where she gets this stuff! I really hope our advice helps!!
What do you guys think? Do you have any advice for Madison?