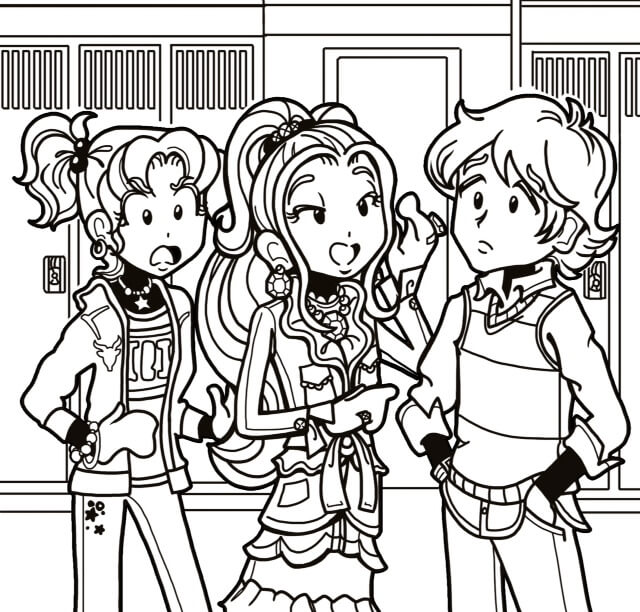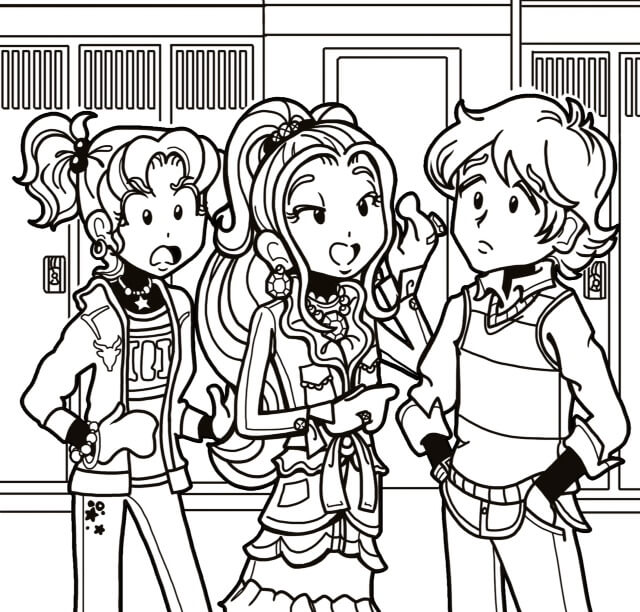 Today I had the greatest idea EVER! Seriously, it will improve my life by leaps and bounds. BOUNDS, I tell you!
What's this super amazing idea, you ask? I'll give you two hints: MacKenzie Hollister. Home school.
(Okay, so those weren't hints so much as the whole idea written in four words…)
It would be SO AWESOME if MacKenzie were home schooled because then I'd never have to worry about her evil plots against me again! And I'd never have to hear her call me "dork" again. And I'd never have to watch her sashay again. (I just HATE when she sashays!)
I was thinking about this yesterday right after she did something TOTALLY mean and nasty.
It all started right after biology. Brandon and I spent the whole class writing notes to each other. (Note to self: writing notes to crush = probable low grade. Save flirting for lunch and other non-academic blocks of time!)
The last note I wrote before the bell rang read, "Can't believe we're back in school. I bet you miss photography camp, huh?"
Okay, so I was KIND OF fishing for him to write, "Why, no, Nikki, I don't miss it all because I missed YOU all summer. Want to go on a real date on Friday?" But I knew that wouldn't happen!
Still, what he wrote back was pretty close!
He wrote, "Nah, it's much more fun to be around friends and people you miss while you're away."
CLEARLY I am people!!
Right then, the bell rang, which meant I walked into the hallway blushing, with a face as red as a cherry.
Brandon was right beside me, and we were walking so close that our arms felt connected. It was like our forearms were holding hands!
My face got even redder when I thought about that!
It was a super sweet, totally awesome moment…until SOMEONE had to ruin it. And you know EXACTLY who that someone is!
All of a sudden, out of nowhere I heard, "Oh, it's so cute how you're blushing. I bet you're thinking about some new crush. Did you write his name in hearts all over your notebook??"
It was her way of being rude without being obviously rude, since Brandon was right there, and he wouldn't immediately think that she was trying to embarrass me in front of him.
But OF COURSE she was! She knows EXACTLY who my crush is!
Trying to be nice, Brandon said, "Hi MacKenzie."
Then she grabbed his arm, pulled him away from me, and said, "So, how was photography camp? I think I want to go next year! Maybe you can tell me about it after school?"
I couldn't believe she was DELUSIONAL enough to think he'd believe that she wanted to go to photography camp AND agree to spend any more time with her than he has to!
I was totally annoyed that she got between us like that, and did it in typical mean MacKenzie fashion.
But I have to admit that it was kind of nice to hear what Brandon said in response.
He said, "It was good. You should go. And no, thanks."
I mean, wow! She asks him to hang out and talk, and he says, "No, thanks!"
After that, he turned his back to her to look at me and said, "See you later, Nikki."
"See you later, Nikki!" SO MUCH better than, "No, thanks, I'd rather scoop out my eye ball with a spoon than hang out with you!"
Okay, so I added that last part, but still, that was what he meant!!
I'm so psyched that Brandon sees right through her. But I still think home school would be a great plan…because I'd rather not see her AT ALL!