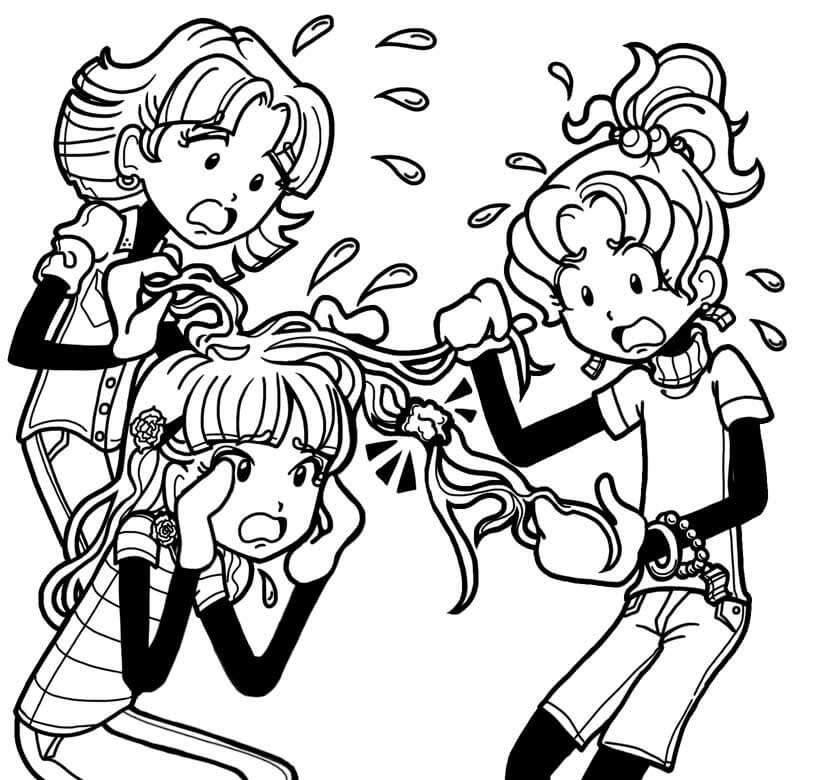 I feel SO bad for Chloe!! I did this super dumb thing yesterday in school, and now it's all I can think about!!
It all started so innocently. We were hanging out in the janitor's closet, talking about who's cuter: Ross Lynch from Disney's "Teen Beach Movie," or Harry Styles from "One Direction." (Chloe and Zoey agreed on the same one. Can you guess which one they picked?)
I had a CRAZY caffeine rush because I had a huge Coke Zero at lunch, so I decided to put my energy to good use and show them some dance moves I'd made up.
Don't ask me WHY I made up these moves! It's not like I'm planning to dance in the talent show or anything. I was just bored one night, and it seemed like a good alternative to my mom's suggestion…weaving a basket. (What am I, 80?!?)
Anyways, I got up to show Chloe and Zoey my moves, and I thought they were pretty impressed! I mean, I'm not Selena Gomez-talented, but I got skills!
As I'm sure you know from my many super accurate drawings, it's pretty cramped in there…and I'm about as graceful as a one-legged penguin. So it will likely come as no huge shock to you that I eventually tripped…and fell on Chloe!
But THAT'S not the thing I feel bad about! I mean, I'm sure she didn't LOVE my butt in her face, but she's not THAT fragile!
What made me feel super bad was when I realized my gum had popped out of my mouth when I fell…and it landed RIGHT in her hair!
When I saw it on the side of her face, I screamed, "DON'T MOVE. IT'S IN YOUR HAIR!"
She thought I meant some kind of big, nasty bug, so she jumped up and starting shaking her head.
That was the worst thing she could have done, because she got even MORE hair into the gum wad!!
So I yelled, "STOP! It's gum. And now it's hairy gum! I am SO sorry!!"
Then Zoey said, "No one panic! We have to act quickly!"
Then she reached in her backpack and pulled out this little peanut butter and crackers snack.
I knew from this time when Brianna got gum in her hair that peanut butter is supposed to help take it out, but those cracker sandwiches don't really have all that much on them.
Zoey had to pull them apart and rub the crackers on Chloe's hair, but all that did was add a bunch of crumbs to the gross, gummy mess!
Right then, the bell rang. And Chloe had a test in her next class that she couldn't miss. (Tests in September should be against the law…it's WAY too soon! But back to my story…)
Chloe, Zoey, and I met up after school, and by then the gum was pretty dry. I thought FOR SURE she was going to have to just cut it out.
When we got to my house, my mom pulled out a huge tub of peanut butter, which worked MUCH better than our pathetic crackers. She was able to get ALL of it out!
As she was washing Chloe's hair in the kitchen sink, she asked us, "How did this happen?"
I said, "Well, I was showing her the dance movies I made up on Sunday night…"
So of course my mom said, "See, none of this would have happened if you worked on that basket, like I suggested!"
I guess it's settled: the world would be a safer place if I stopped pretending I can dance and took up basket weaving instead!