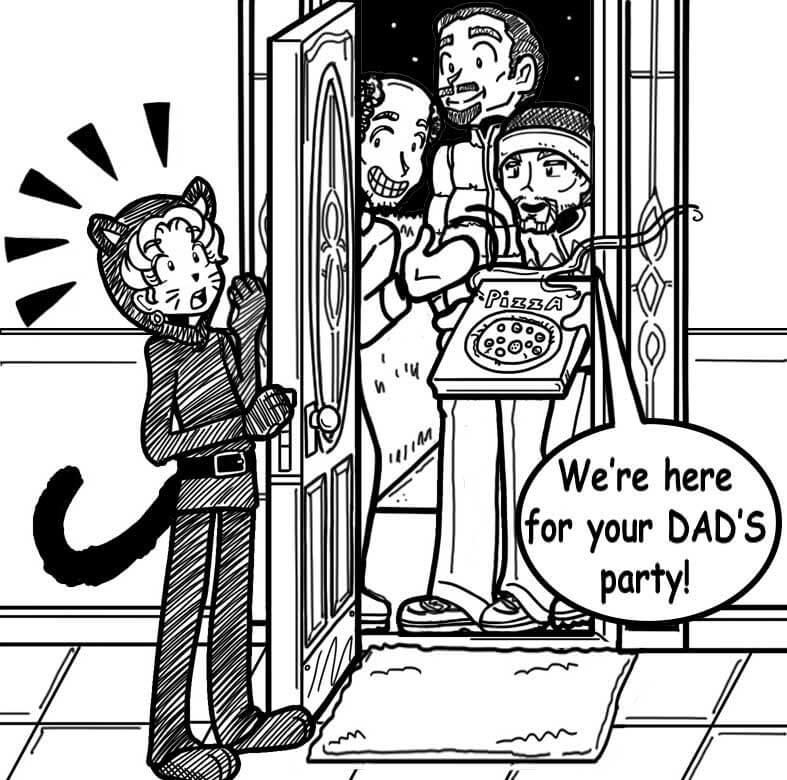 You're probably all wondering how my Halloween party went. You know…the one I co-hosted with Brandon. (Squeee!)
It was THIS CLOSE to being ruined by my mom, but it turned out my dad was the problem!
At the beginning of the night before anyone came over, I was decorating the living room with streamers and cobwebs and stuff. I even made spooky artwork to hang on the walls, including this SICK dancing skeleton.
(I mean "sick" as in "awesome," not like a bad case of the flu with a high temperature. It's a skeleton…he's DEAD! He can't get sick!)
Anyways, I was decorating the living room when I heard the doorbell ring.
I thought maybe it was Chloe or Zoey, which would have been cool since they could have helped me finish up. But before I got the chance to find out, my dad ran downstairs, like a five year old running to see Santa, and whipped open the door.
Was it Chloe, you ask? Nope! How about Zoey? Not her either! It was three middle-aged men!
I was so shocked to see them that I screeched, "What are THEY doing here?!"
Then I realized that was a pretty rude way to greet three total strangers, so I cleared my throat and said, "I meant, um, hi, are you guys going somewhere?"
Judging from the large pizza they were holding, that seemed unlikely, but I REALLY hoped it was like some kind of reverse delivery service…instead of one guy dropping off a pizza for three others, it was three others bringing a pizza for one guy to pick up!
Yeah, that wasn't it. Within five minutes, the men were all sitting in the living room, with their pizza box RIGHT on top of the coffee table I'd just decorated.
I said, "Dad, um, are you forgetting something?"
And he said, "Sorry Nikki! Cheese or pepperoni?"
After that I whisper-yelled, "Can I talk to you in the kitchen?!"
When we got in there, I asked, "What are you doing,? My friends will be here ANY MINUTE for my Halloween party!"
Then he said, "The basketball game's on tonight! You guys can hang out in the kitchen."
First of all, who watches basketball on Halloween? Sports and holidays just don't mix. That's like watching football on Thanksgiving! (Okay, so that's a bad example.)
Second of all, who has a party in a kitchen? Ours is so small we'd be better off cramming everyone into the tub to hang out in there!
When I heard my dad's friends crunching on the chips and salsa I put out, I just about lost it.
I whined, "How could you not have known I was having a party? Did you think I was decorating for the game? And what about that tarp I put down for bobbing for apples? What did you think that was for??"
He shrugged and said, "I don't know. I thought your mom put you up to that so we wouldn't get cheese on the rug."
Just then, my friends arrived. I couldn't believe I had to shuttle them all into the kitchen where they only game we had room to play was UNO.
What's worse…within ten minutes the game started, and Brandon, Marcus, and Theo kept poking their heads into the living room to see what was going on. So OF COURSE my dad had to say, "Come on in boys. Help yourself to some chips and salsa!"
Those were MY chips and salsa!!
I was sitting in the kitchen with Chloe, Zoey, Violet, and Marcy feeling TOTALLY bummed out when I heard, "Did Nikki draw that? She's so talented."
And then seconds later, "I was supposed to get here earlier to help decorate, but Nikki did a really awesome job."
And then seconds after THAT, "You have a really great daughter, Mr. Maxwell."
And my dad responded, "I sure do!"
Awww!! Brandon was bonding with my dad…over me!
My dad must have felt bad after that, because he and his friends left at halftime to watch the rest of the game somewhere else.
After that, we watched Hocus Pocus and bobbed for apples…AND I showed everyone how to make SICK skeletons! The beginning of the night didn't go how I planned, but overall, it was an awesome party. 🙂
How was YOUR Halloween? Do anything fun?