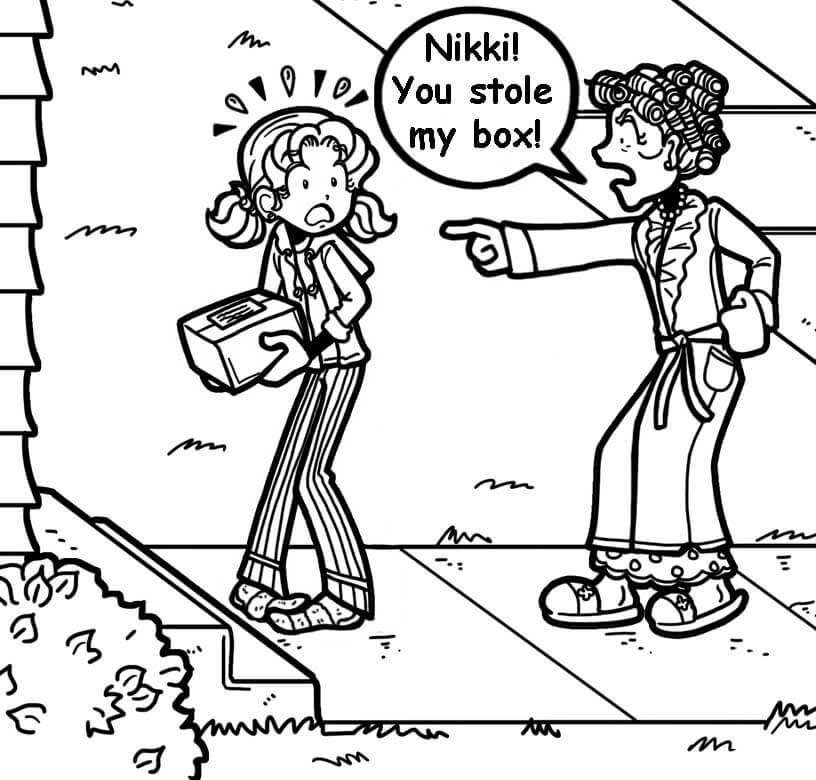 This weekend there was CRAZY drama at my house!
Last week I ordered this super cool art kit online, and I knew it was coming on Saturday morning. When I woke up, I checked the tracking website, and it said that it already came.
I didn't hear the doorbell ring, so I figured the delivery guy left it outside our door.
I was SO excited that I ran downstairs without even changing out of my pajamas.
I didn't see anything on our porch, but I DID see something left on Mrs. Wallabanger's. I figured it must have been a mistake.
I was WAY too impatient to go upstairs, get dressed, and then slowly walk over to her house, so instead I ran outside in my PJs in the snow!
Then I grabbed it, brought it home, and made some art. The end!
Yeah right…I wish! What ACTUALLY happened was this…
I saw my name on the box so I grabbed it, ran to my front door, and then pulled on the knob only to realize I was locked it out.
It was FREEZING outside! My dad wasn't home, and my mom was sleeping in because Brianna had slept over a friend's house.
I REALLY didn't want to ring the doorbell and wake her up because I'm JUST THAT considerate. Okay, not really…I just knew she'd flip out if she saw me outside in my pajamas in the snow!
Just as I was about to try the windows to see if there was an open one, I heard, "You took my box!"
Mrs. Wallabanger was running across my front lawn…in a bathrobe, with her hair in curlers. She looked SUPER mad…and kind of crazy. Seriously, there was this scary looking vein thing on her forehead that looked like it was about to pop!
Right after she said, "Someone's been stealing my packages, and I never thought it would be you!" Then it happened…the saddest thing in the history of old people running around in robes and curlers: she slipped!
I felt HORRIBLE! I was just about to go over to help her up when the door opened. It was my mom, and she looked SUPER mad too!
She said, "Nikki…what are you doing out here in your…" and then seeing our fragile old neighbor belly up on the snowy grass, she screeched, "Mrs. Wallabanger!"
Now my mom was running outside on the lawn in her pajamas to go see if she was okay.
But instead of responding to her with, "I need an ambulance!" or "Don't worry! I didn't break my hip!" Mrs. Wallabanger said, "I wouldn't have believed it if I didn't see it with my own eyes, but Nikki has been stealing my packages!"
Our other neighbors were looking out their windows to see what all the commotion was about. "Great," I thought, "now EVERYONE on our street thinks I'm a thief! They probably think I pushed my cute little old neighbor to steal her box!"
Mom looked at me and said, "Nikki J. Maxwell!"
I knew I was in trouble then…she only pulls out the middle initial when she's REALLY mad! Then she continued, "Please tell me you didn't take Mrs. Wallabanger's box!"
So I said, "I didn't take…"
But Mrs. Wallabanger interrupted, "I saw you run over to my front door, grab it, and then run away."
My mom grabbed the box from me to give it back, but it was MY package!
Since the whole neighborhood was watching, I wanted to end this mess as quickly and quietly as possible. So I pulled it back and whispered, "It was dropped off at the wrong house…it's mine!"
But my mom didn't hear me, so she pulled it back again. I pulled it back and tried to whisper it again, but it seemed like Mrs. Wallabanger's hearing problem was contagious because my mom STILL didn't get it.
So finally I yelled, "It's MINE!" Then my mom let go, and I slipped too!
It was just CRAZY…and all over a stupid misunderstanding!
Not only was the package addressed to me, we opened it, and it was my art kit all along! Mrs. Wallabanger was finally convinced, and she apologized.
Then we ended up all drinking hot chocolate together in her kitchen, laughing over the whole silly mess. (Thank goodness she didn't get hurt when she slipped!)
I can't believe she thought I'd steal her stuff. I'm a dork, not a thief!