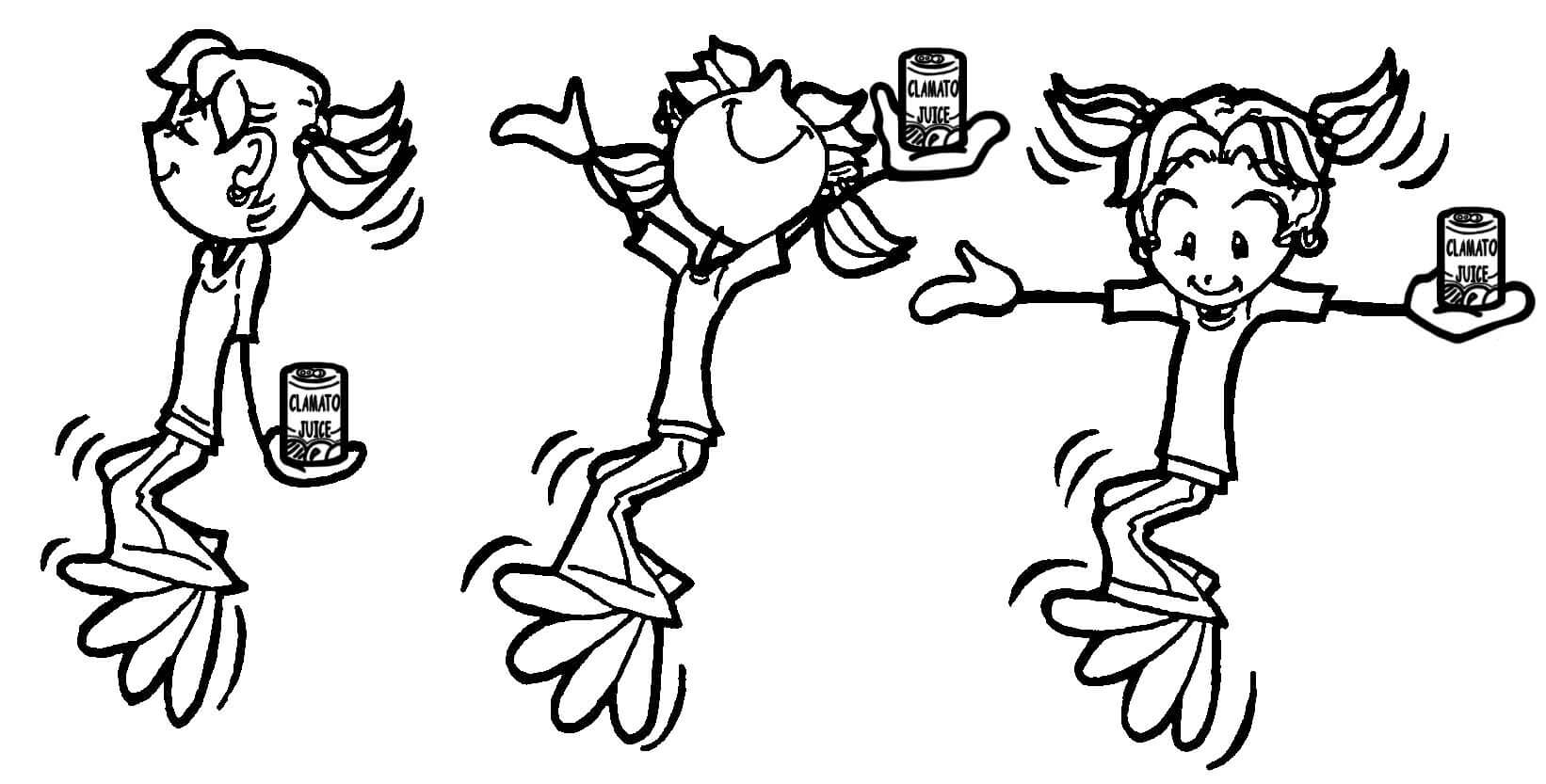 Squeeeeee!! The BEST thing happened yesterday!
Hold on, be right back…
OK, back! I couldn't help myself…I was SO excited that I had to do my Snoopy "happy dance"!
If you follow me on Facebook, you know I've been trying to come up with a clever way to ask Brandon to go to the winter dance with me.
A part of me thought maybe I should wait to see if he asked me, but I worried that maybe he'd ask someone else.
And you know which someone else I was thinking about…the WORST someone else in the history of someone elses…MACKENZIE!
Then I remembered Brandon would rather get a root canal while listening to the audio version of the dictionary…as narrated by Sponge Bob Square Pants!
So I knew it was a pretty safe bet he wouldn't ask her…but still, I didn't want to take any chances!
I had the whole thing planned out in my head: I was going to sit at his table at lunch, pull out two cans of fruit punch, and then offer him my extra one.
Then I was going to say, "Speaking of punch, you know where they have awesome punch? The winter dance! So…are you going with anyone?"
But it didn't go down like I expected.
When I sat down at his table, I said, "Hi Brandon! Want my extra…"
Then I opened my backpack and saw two cans of Clamato. You know, that tomato/clam juice stuff that no one our age EVER drinks!
Brianna must have taken my fruit punch and replaced it with the first cans she found in our fridge.
I DEFINITELY couldn't be like, "Hey Brandon! Want a warm can of clammy tomato juice?" That would be TOTALLY nasty!
And I also couldn't say, "Speaking of nasty drinks in a can…know where they have AWESOME nasty canned drinks?"
So my whole plan was ruined! I know, it was a pretty bad plan to begin with, but that's all I had. I'm SO bad at this stuff!!
I got so nervous when I noticed my fruit punch was gone that I just sat there next to Brandon, staring in my backpack, like there was a tiny circus in there and I was SUPER enthralled!
Finally after a good two minutes of awkwardness, Brandon said, "Umm…did you forget your lunch?"
I felt like a TOTAL dork! But then he said, "…because you can share mine!"
Awwww!! How sweet is that! I actually had a sandwich in there (a squished one…thanks for nothing, Clamato!)
But I really wanted to share his sandwich. We'd be like Lady and the Tramp…but without the spaghetti and the kiss!
After we finished eating, Brandon said, "So, um, want to play hangman?"
I thought that was kind of random, but with those big, cute eyes he could've asked me to play Ring-Around-the-Rosy on top of our table, and I probably would have said yes!
He said he would go first, and he made little lines for EIGHT words. EIGHT! That's pretty long for hangman!
First I guessed an "o," and there were three. Then I guessed an "e," and there were two. And then I guessed a bunch of letters that weren't in there…so many that he almost drew the whole hangman.
Lunch was about to end, so I said, "I guess we can finish later!"
But then he said, "Wait! You didn't guess a "w" yet!" So I did. And then he said, "And you didn't guess a "d" yet, so I did. And after a few more letters like this, the words were complete:
Will you go to the dance with me?
Squeeee!!! See? THIS is why I've been doing my Snoopy happy dance. I mean, how super sweet is that!?
I'm SO grateful for Clamato! Without it, I would have used that LAME fruit punch line, and he wouldn't have been able to ask me.
I CAN'T WAIT for the dance!!