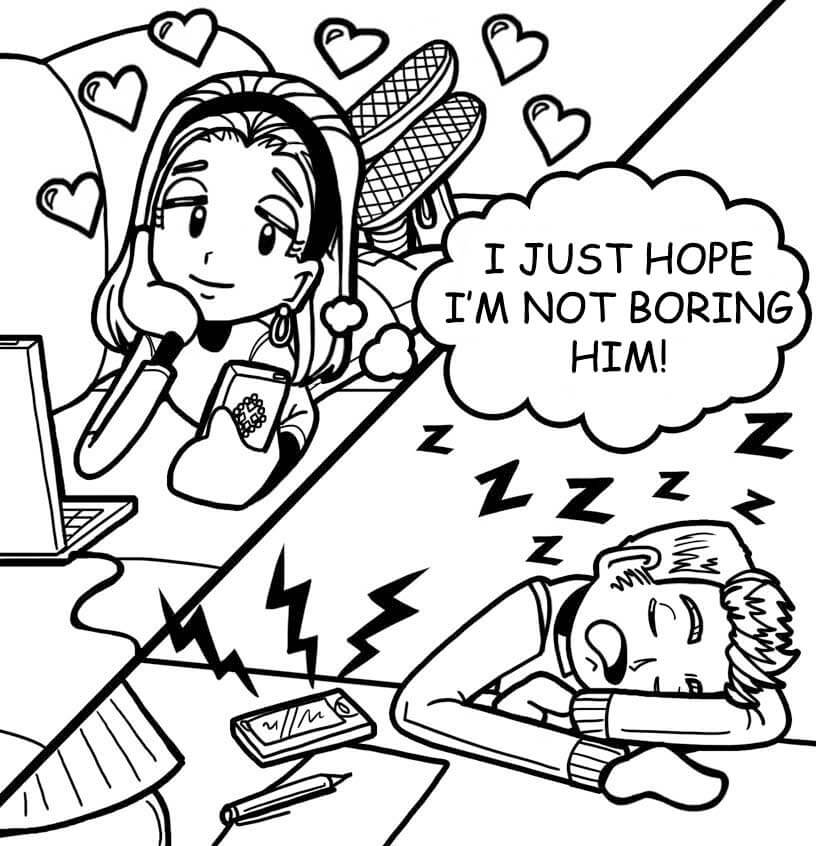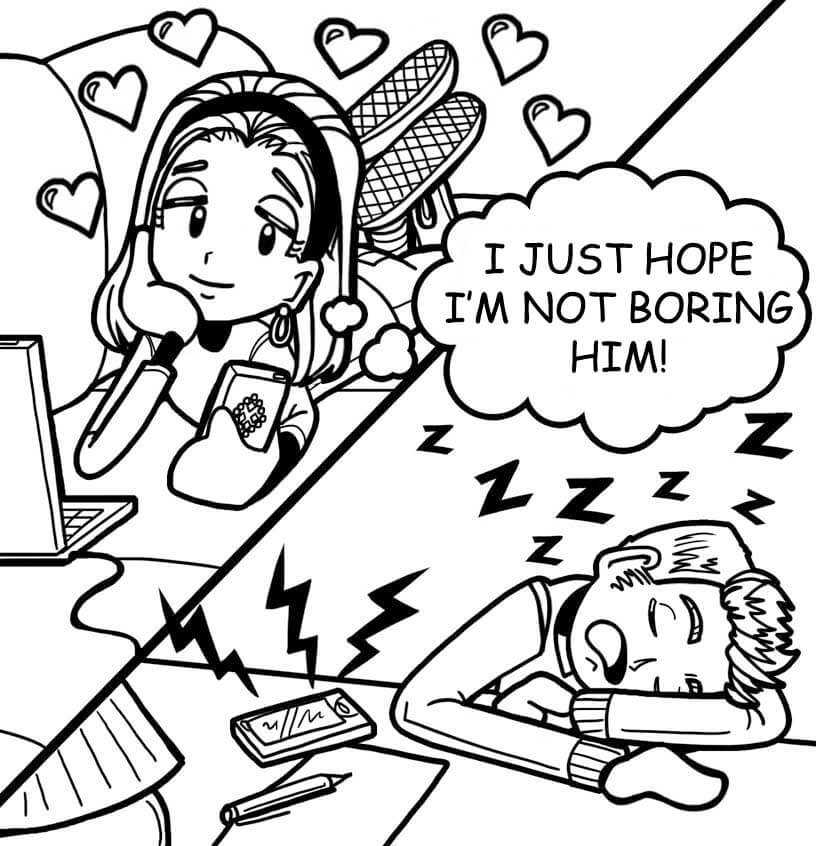 My crush texted me last night and while I was texting back to him, I had a feeling that I was boring him to death with my texts. He reads my texts but then doesn't reply to them until two hours later…or more!

He said that he feels happy whenever I'm around him but my head keeps telling me that's a lie. I don't want to text him constantly because I don't want to sound too desperate to get his attention. Help!

Julinda
Hi Julinda! I'd love to give you advice, but I couldn't get through your question because it was so incredibly boring.
OMG, I am totally kidding! I have a feeling you're not even SLIGHTLY boring. You probably just think you are because you're caught up in what I like to call Super Obsessive Overanalyzing Crush Syndrome…or SOOCS.
It's when you like a boy SO much you that you can't help but overanalyze everything. It's incredibly painful and it makes you all paranoid.
A five-minute response time feels like 50 years walking through the desert in a snowsuit.
A quick response with just a smiley face becomes a sure sign he is SO exhausted from being bombarded by all your texts that he can only muster the energy to choose a lame, overused emoticon.
But usually it's not even close to what you think.
The slow response time probably means he was in the bathroom, then ate a sandwich, then heard his mom yell, "I need your help with something!" before he even SAW your text.
And the smiley face probably means exactly what it looks like…he likes what you wrote, and now he's smiling, virtually and for real!
If he said he's happy when he's around you, I say take it at face value. If you start trying way too hard to be less boring in your texts, then he may think you're desperate for his attention.
I mean, think about it. Which one seems more laid-back and natural?
Funny joke in homeroom today! You always crack me up.
Or…
You were so funny in homeroom today!
And one minute later…
Not sure if you saw my text, but I think you're really funny, and not just in homeroom!
And one minute later…
Interesting fact: In Argentina, they don't have homeroom. Fascinating, huh? =)
OK, I know you probably wouldn't write that, but you get my point! When you try to be interesting, that's what it looks like!
So to sum all this up with a simple math equation:
Laid back text + not stressing about when he writes back = chill, fun flirty crush relationship.
Trying too hard + obsessing about what he's thinking = awkward, pressured crush relationship.
(And just so you don't feel bad if it's hard to stop stressing and obsessing, an interesting fact for you: 98% of girls struggle with SOOCS. Yes, that's a made up statistic, but I have a feeling it's true!)
What do you guys think? Do you have any advice for Julinda?