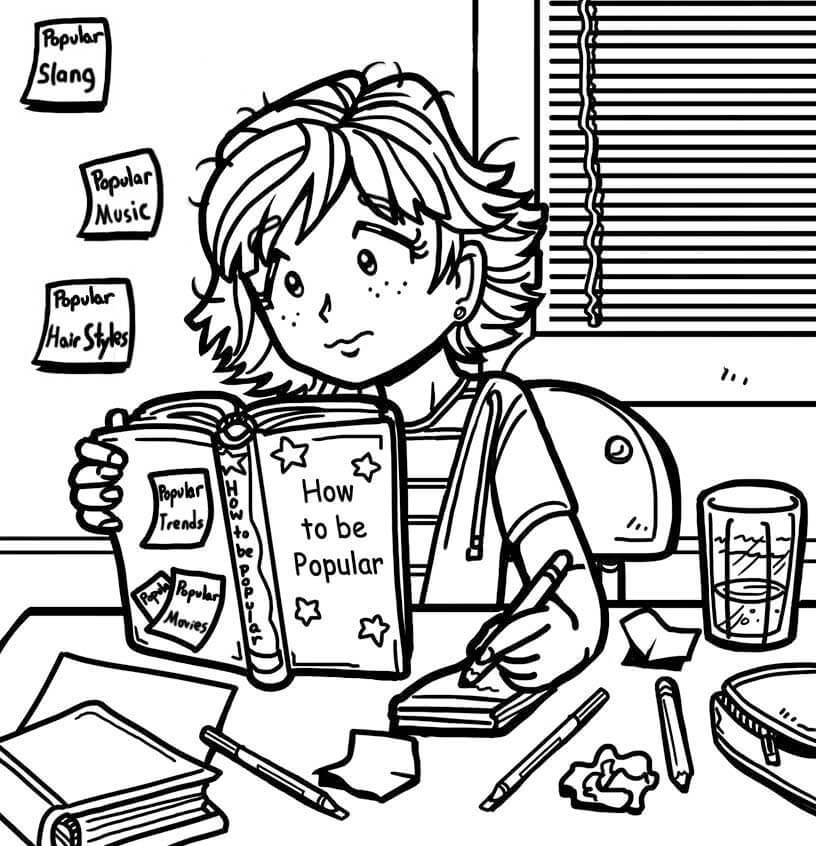 I feel like I NEED to be popular, and I don't know why.

My friends think it's annoying and silly. Once, I almost lost my best friend because of how badly I wanted to be with the cool girls. She said she didn't like how I was always stressing about how I looked and always trying to be friends with them.

I don't like it, either. What should I do?

Daylynn
Hi Daylynn! I think it's really COOL that you realize this is something you need to work on.
I put that in caps to let you know that you, too, are pretty cool! You may not be one of the popular girls, but that's a whole different thing.
Just think about MacKenzie. I know I call her and her friends CCPs (cool, cute, and popular). But really, there's nothing cool about her…except her icy stare and frozen heart!
If I were to make my own illustrated dictionary, using drawings of people I know, she'd be on lots of pages… "D" for drama queen, "E" for evil, and "P" for popular (and pathological liar). But her face would be nowhere near cool!
I'd put Chloe, Zoey, Marcy, Brandon, Theo, and Marcus on that page…because they're the coolest people I know! They're all smart, funny, talented, fun to talk to, and just plain awesome…that's why they're my friends!
I know you might think it's not enough to be a cool person if you're not the Selena Gomez of your school, but really, being popular isn't all it's cracked up to be!
The popular girls may have the best clothes, the best shoes, and the best phones, but they definitely don't live the best lives!
Even though MacKenzie has lots of nice stuff and tons of people following her around like zombies in heels, I'd NEVER want to trade places with her!
She's super mean, she's super bossy, and she never really knows who her true friends are, because like her, they're super phony.
What's my point in all of this? Being popular might make some people feel like they're better and more important than other people. But that doesn't mean it's true.
The unpopular kids are just as good if not better at lots of things, and they're just as important to the people who know how amazing they are, without needing to see a clique of zombies hovering around their locker!
So, the next time you think that your life would be so much better if you were part of the popular group, think about what you'd lose if that dream came true: the freedom to just be your super cool, dorky self and friends who you know love you for you!
What do you guys think? Do you have any advice for Daylynn?