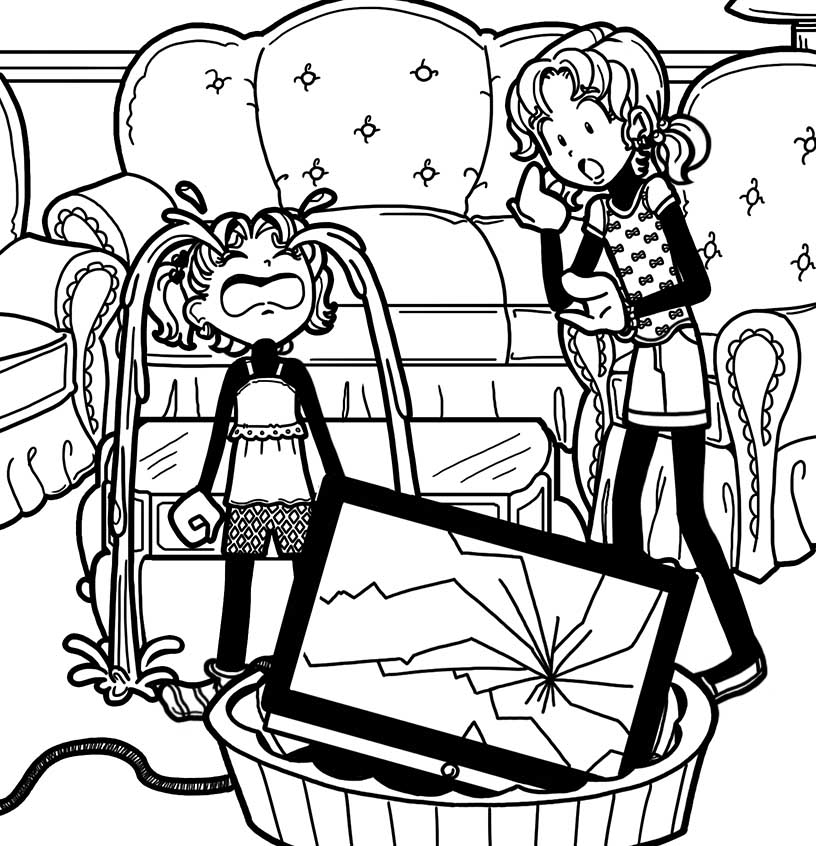 OMG, I can't believe what just happened! I'm kind of freaking out right now!!
Last night, my parents told me I'd have to watch Brianna all day today because they were both going to be out.
I squealed, "What?! Is this because I had a huge cell phone bill? That's cruel and unusual punishment!!"
"Then my dad said, "You have a huge cell phone bill? AGAIN??"
I guess the bill hadn't come yet! So I changed the subject quickly and said, "Nope, just kidding! Can't wait for tomorrow. I have a TON of fun stuff planned for me and Brianna!"
Of course that was a big fat lie. I'd rather watch maggots eat garbage than watch Brianna all day. Trust me, watching her is WAY more annoying!
But I didn't really have a choice. I figured I'd just hang out in my room, Skyping with Chloe and Zoey, and pop "Frozen" in the DVD player in to keep Brianna busy.
She LOVES that movie. Seriously, she sings the music all the time! And she wakes me up pretty much every morning saying, "The sky's awake, I'M awake, so we have to play!"
Everything seemed to be going just fine for about an hour. It was super quiet downstairs, and super LOUD upstairs because Zoey was playing me some weird song from a new album her dad's producing.
Then all of a sudden I heard a loud thud. I jumped up like a jack-in-the-box and ran downstairs, terrified of what I might find. And sure enough, it was HORRIBLE!
Brianna was standing next to the TV stand, crying, and the TV was broken…beside the stand…inside Brianna's plastic kiddie pool!
I screamed, "Brianna, what did you do?!?"
Then she said, "YOU did this! You didn't want to play with me!"
I kept visualizing her telling my parents, "Nikki ABANDONED me, AND she used all her data. Take her iPhone away!"
I didn't know what was more terrifying…the sight of the broken TV, or that!
Brianna started to tell me what happened, but I couldn't hear a word through her hysterical sobbing. After a couple of minutes, I started feeling pretty bad.
Clearly, she was really shaken up!
So I said, real soothing-like, "Hey! Don't worry! It's no big deal! Tomorrow we'll be laughing about this!"
And then I started singing, "It's funny how some distance makes everything seem small! And the fears that once controlled me can't get to me at all!" (That's from the song "Let It Go," in case you didn't know!)
After that, she calmed down a little and said, "I got my new pool so I could fill it up with water and freeze it, like Elsa!"
I asked her how, exactly, she planned to do those things, and she said, "I figured I'd bring water from the kitchen in bowls and then use magic to freeze the water. Duh!" (Like it was common sense!)
Then she said, "But before I could bring in even one bowl, the TV broke!"
Of course, she glossed over the little detail that SHE broke the TV when she tried to move it, before bringing in any water, so it wouldn't get wet.
I have to hand it to her for knowing electronics and water don't mix!
Still, I won't give her THAT much credit because she really thought her scrawny six-year-old arms could carry a huge TV!
Of course, it toppled over when she tried to lift it up, and that's when I heard the loud thud!
I was SO glad she was okay, and no, not just so I wouldn't get in trouble or have to make calls from a landline for a week. (The horror!) I'd feel terrible if she got hurt because I wasn't paying attention!
I'm not going to take my eyes off of her for the rest of the day…and I'm even going to put on the Elsa dress my mom bought me so I can play with her.
But I have no idea what I'm going to tell my parents! What should I do? Help!