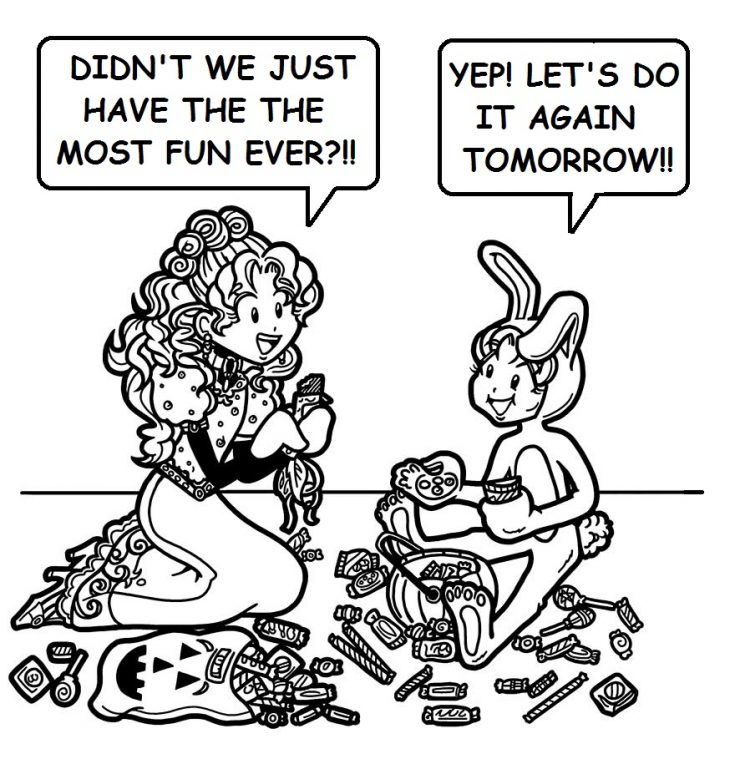 OCTOBER 31st: I'd LOVE to hear all about YOUR Trick-or-Treat adventures! So, did you Trick-or-Treat with friends, attend a Halloween party, stay home and hand out candy, visit a haunted house, or something else? What was the MOST fun and exciting part of your evening? Give me ALL of the details, please!
I hope all of you had a Happy Halloween filled with family, friends, fun, and frights!
I took Brianna Trick-or-Treating around our neighborhood for the first hour. And then, I went back out again with my BFFs Chloe and Zoey for another hour.
We had a lot fun and we collected LOADS of candy! SQUEEEEEE!!
I was a fairy tale princess (just like in my Book 8!) and Brianna was a super cute bunny!
Brianna had so much fun she actually BEGGED me to take her out Trick-Or-Treating again TOMORROW! (LOL)
I told her she could continue to wear her bunny costume and hop all around the house and nibble on carrot sticks as long as she wanted to.
But, we could NOT go Trick-Or-Treating again until Halloween NEXT year!!
I'd LOVE to hear how YOUR evening went.
Please let me know in the comments section below.