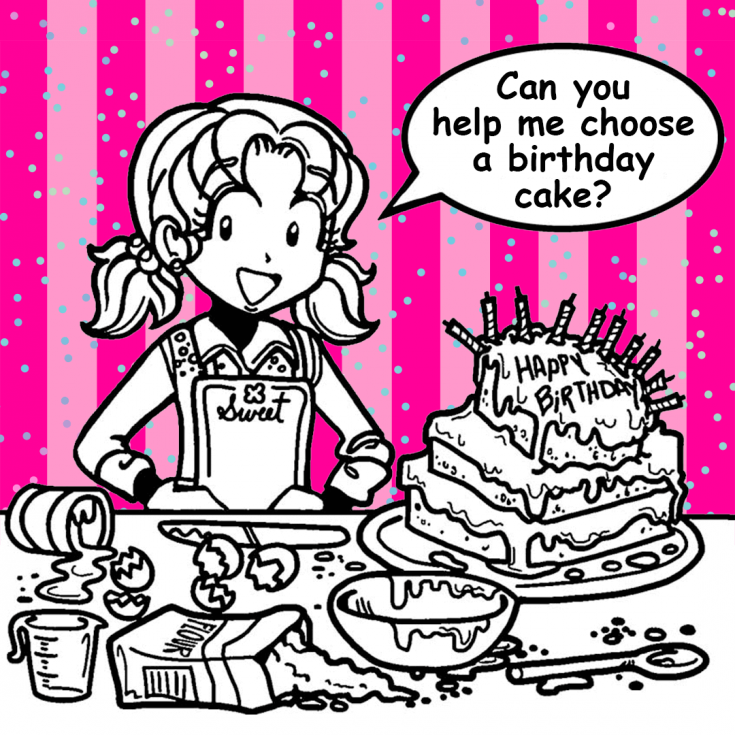 Great News! My new Dork Diaries Book 13: Tales From A Not-So-Happy Birthday will be released on Tuesday, October 16th. It's all of the deets and never-ending DRAMA about my birthday party! You can read a SNEAK PEEK of the book here!
I didn't know that planning a party was SO complicated! Like, for example, choosing the PERFECT birthday cake. Since Zoey is really into unicorns, she suggested a unicorn cake. Chloe is crazy about rainbows, so she urged me to get a rainbow cake. Brandon is an animal lover, so, of course, he recommended an animal print cake. MacKenzie is addicted to lip gloss, so she insisted on a make-up cake. And, Brianna TOTALLY freaked me out when she showed me the cakes she had decorated all by herself :-(!
I even thought about making my OWN birthday cake, but I knew THAT could turn into a complete DISASTER! Hey, I can barely cook toast without burning it to a crisp. Anyway, after we got into a heated debate about which cake to get, I suggested that we vote on our favorites and then I'll make my final decision. So, I really need your help with this.
I would appreciate it if you guys would look at all of the cakes we suggested and then vote on YOUR favorites. The cake that gets the MOST votes will be the one I'll get for my birthday party! You can see pictures of all of the fabulous, yummy-looking cakes and vote on them below.
I'd love to hear your thoughts! Which cake do you like MOST and LEAST? What type of cake did you have for YOUR last birthday? Please respond in the comments section.