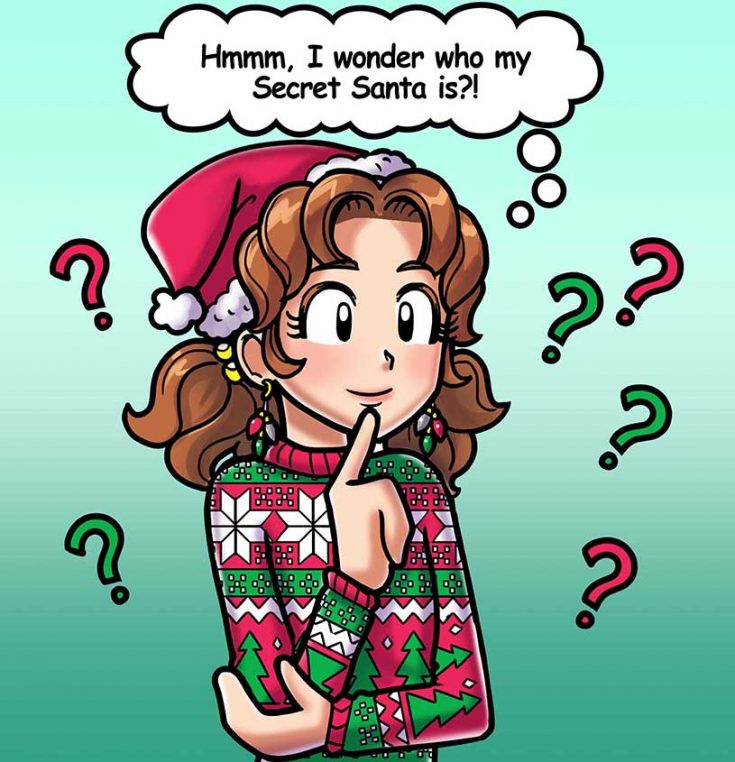 Okay, so remember when I told you last week that I had a SECRET SANTA?! Well, today I found out who it was!
This morning when I got to my locker, I found a note on it that said:
Today will be a special day,
To meet your Secret Santa. HOORAY!
Before lunch, please don't forget
To meet us near the janitor's closet! 🙂 
I COULD NOT wait until lunch. When it finally came around, I dashed to the janitor's closet just in time to come face to face with…wait for it…
…MACKENZIE HOLLISTER?!!
I couldn't believe my eyes. "MacKenzie," I stammered. "You're my SECRET SANTA?!"
Mackenzie took a step back from me like I was a bad case of stomach flu. Then she grimaced.
"WHAT ARE YOU TALKING ABOUT?! I don't do that immature Secret Santa stuff! And besides, I'd NEVER waste a single penny on a pathetic, un-manicured FASHION DISASTER like you. I'm just here waiting for Jessica to meet me for lunch. Where is she?!"
Then she turned up her nose and sashayed away. I just HATE IT when she sashays!! 🙁
Well, false alarm. Looks like it WASN'T MacKenzie after all. And I'm NOT surprised. You couldn't pay that girl a million dollars and a lifetime supply of lipgloss to do something nice for me!
Suddenly, I heard "MERRY CHRISTMAS NIKKI!" from behind me. I turned around just in time to see Chloe, Zoey and Brandon waving with big smiles on their faces.
"SURPRISE!!" Chloe exclaimed with jazz hands. "We couldn't decide who should be your Secret Santa this year, so all three of us decided to do it!"
"Yeah!" Zoey agreed. "Chloe decorated your locker with Brandon and Max Crumbly's help since they lent her the Christmas lights. And I baked you the Christmas cookies."
"And I'm the one who gave you the dog sweater, gloves and dog treats." Brandon blushed and moved his bangs from his eyes. "My grandma knit the sweater and gloves. I made the treats. Your dog treat business really inspired me!"
(BTW, if you want to know more about my dog treat business, check out my 13th Diary, Tales From A Not So Happy Birthday! 🙂 )
I almost thought I'd melt into a huge puddle of gooey…lovesick…HAPPINESS when Brandon said that! And Chloe and Zoey are the best. BFFS. EVER!!  
"OMG you guys, thank you!" I gushed as I blinked back tears. "You really made this day super special for me. Now I need to do something super special for each of you!"
As we all walked to lunch, I started to brainstorm some ideas when Brandon leaned over and whispered, "So, what's up with Chloe and Zoey and the janitor's closet?? They wouldn't stop talking about what a great spot it was to meet you at!"
"Yeah…" I giggled. "Pretty weird huh?!"
Maybe I'll tell him about that later. But until then, some things were just meant to be kept a secret! 😉
I was SO thrilled to receive my gifts from my Secret Santas Chloe, Zoey and Brandon!
What do you guys think I should give them? Leave your ideas in the comments!