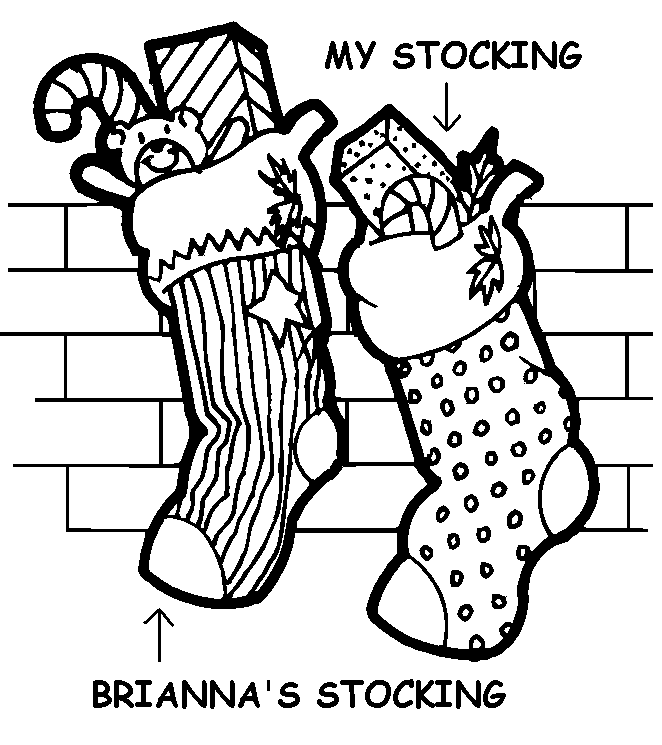 SQUEEEEEE!! That's me being TOTALLY excited about the Christmas stocking idea I got the other day!
Usually I get my stocking full of stuff on Christmas morning, and it's a mix of things I want (like art stuff!), things I don't want (like a framed picture of me as a baby…so weird!) and things I want but NOT wrapped up on Christmas morning (like socks…I mean, I know I need them, but come on!! Socks are a complete WASTE of a Christmas gift! 🙁)
The other day I thought, wouldn't it be so cool if the person who stuffed my stocking was pretty much a clone of me…another girl my age with TOTALLY awesome taste who knows exactly what I like?
Then it hit me: Chloe, Zoey, and I should do stockings for each other!!
Here's how it's going to work: Each one of us spends $10 on the other two girls…and we also spend $10 on ourselves. So each one of us ends up with $30 of cool stuff…and we'll definitely LOVE one-third of it, because those are things we bought for ourselves!
We have to wrap everything up, then we'll get together to stuff each other's stockings, and then we'll take them home to open on Christmas morning with all our other presents.
This way, we all have TWO stockings, one from family and one from friends! Sound awesome? Ummm, yeah it is!!!
Forget for a minute that I only have $4 dollars, six dimes, a penny, a button, and a lint ball in my pocket. I'm sure I can get my Dad to give me some cash! I'll just tell him I want to buy REALLY cool gifts for him and Mom this year.
Then I'll give them both something homemade and write a holiday poem for each of them. They'll be SO busy getting choked up and thinking about how super sweet I am that they'll completely forget about the money! 😀
I know exactly what I'm going to get for Chloe and Zoey's stockings!!
For Chloe:
A fur ball pom pom keychain. I'm sure she'll LOVE it since it's super cute and she can put it on her backpack or purse! Who wouldn't, right?

 

A teen romance novel. There's a whole table of them at this used bookstore down the street. They're wicked tiny, too, so it's the perfect size for a stocking!
A sparkly bookmark. I might actually make this myself, because we all know I have MAD art skills, and this way I have more money to spend on other stuff.
Some kind of bracelet. I could probably make this myself, too. Man, I'm going to be like a one-girl sweat shop if I do this for Zoey as well!
Candy. I think it's against the law to stuff a stocking and NOT include candy!!
For Zoey:
Hoop earrings. Hoop earrings are all the rage. In fact, I think they NEVER go out of style!
A $5 iTunes gift card. This way she can put that really cool Frozen 2 song, "Into The Unknown" on her iPod.

 

A book of quotes. I can get this at the same used bookstore as Chloe's teen romance novel. This way Zoey will never run out of super deep things to say.
Also the bookmark, bracelet, and candy. Since I plan on giving these to both Chloe and Zoey, of course they'll all be different.
I HATE it when my parents give me and Brianna something that's exactly the same, and then we either have to open it at the exact same time, or Brianna FREAKS OUT because she saw mine first.
Seriously, I've seen that girl totally FREAK OUT because I opened a lame holiday sweater three seconds before she did!
Hey readers, what's on your Christmas stocking wish list? Please list all of your fav stocking stuffers in the comments below.