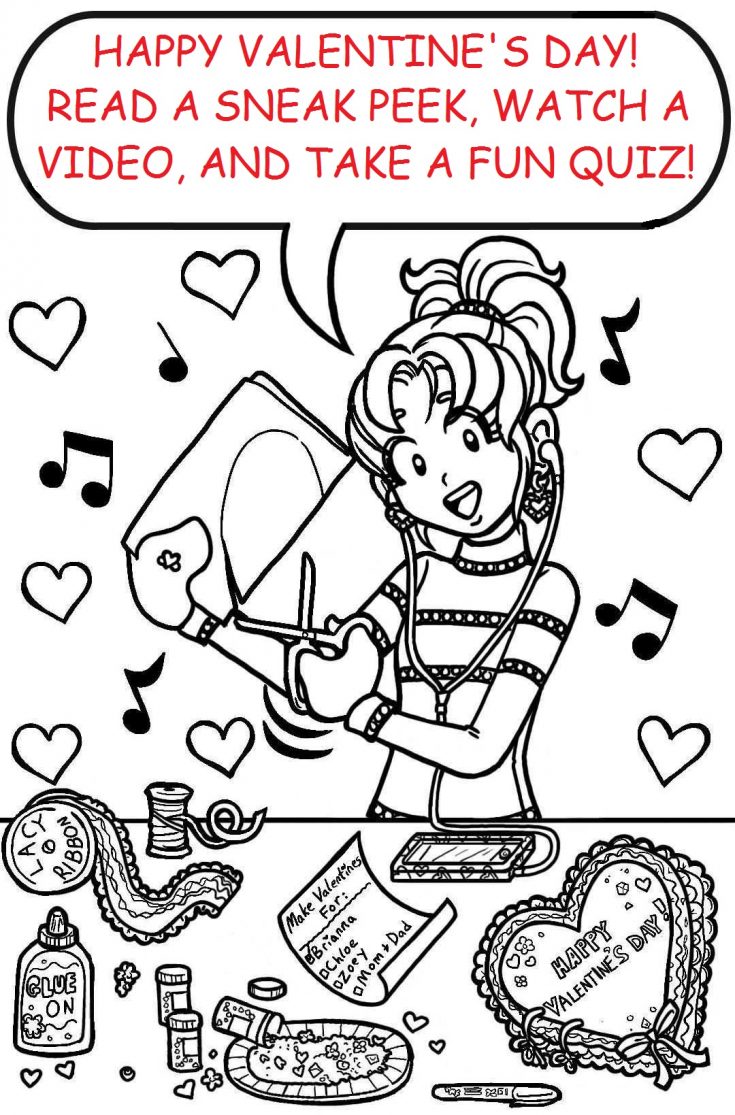 I hope you enjoy my special Valentine's Day post!  It's full of fun activities that will keep you busy for a while. Valentine's Day is one of my FAV holidays because I LOVE giving out cute little cards and gifts!
This year, I bought glitter, ribbon, lace, and colored paper super cheap at the Dollar Store to make my own ADORABLE Valentine's cards.  I can't wait to give them out to my family and friends.  And, my…CRUSH, Brandon, too!  SQUEEEEE!!  If you enjoy craft projects, you can try making your own hand-made cards, like mine.
Will you be GIVING or GETTING a Valentine's Day gift?  If so, I have TWO fun and ADORKABLE suggestions that you're going to LOVE!
my sUPER COOL VALENTINE'S DAY GIFT SUGGESTION #1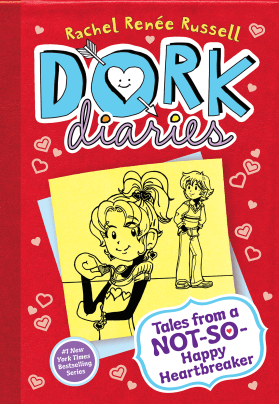 What better way to spend YOUR Valentine's Day than reading about the ENDLESS DRAMA that happened on MINE! It's all in Dork Diaries Book 6: Tales From a Not-So-Happy Heartbreaker.
I was a nervous wreck about asking Brandon to the SWEETHEART DANCE at school!  And, to make matters even WORSE, MacKenzie was doing everything in HER power to totally RUIN my LIFE!
Here is a link to a SNEAK PEEK of the first 50 pages of Dork Diaries Book 6 so you can read all about my DISASTROUS day.
And, you can watch the short Book 6 video below:
my sUPER COOL VALENTINE'S DAY GIFT SUGGESTION #2 
GREAT NEWS!  I finally added a Dork Diaries merch page to this website!
Please check it often for fun, new Dork Diaries stuff!  I added posters a week ago, and I'll be adding PARTY SUPPLIES next month in March!  YES! Soon you and your BFFs can have a party with plates that have MY cute little FACE on them :-P!  SQUEEEE!!
Our Dork Diaries posters are huge and colorful and come in THREE awesome designs! And, they are available at Amazon.com.
To help you choose WHICH poster design is PERFECT for you, I actually made a fun QUIZ for you to take!
Just CLICK on the photo link below to take my fun DORK DIARIES POSTER QUIZ!!
Tell me in the comments section below what you think of the Dork Diaries Book 6 SNEAK PEEK!  Also, which Dork Diaries poster did you get in the quiz, and which one is your favorite?