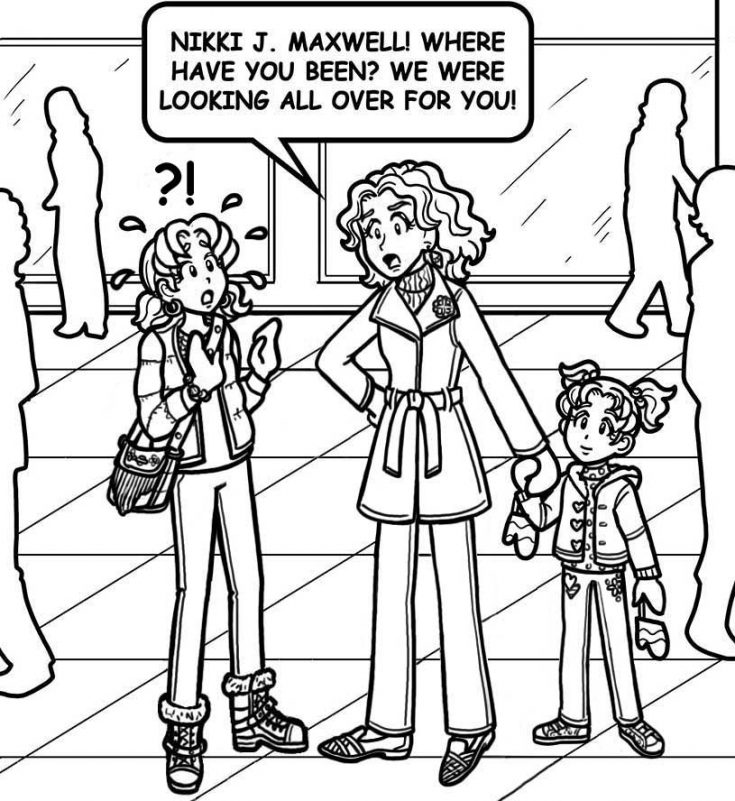 Okay, so in my last diary entry, I was looking EVERYWHERE for Brianna at the mall but couldn't find her. Plus my mom called because she was wondering where we were. Here's what happened next!
"Brianna wasn't at Andy's Candies," I thought aloud. "Where else could she be?!" Before I could finish, I saw a little girl skipping into Cute Kiddo Clothing Store from the corner of my eye. "Pig tails, blue jeans, pink jacket…that's GOTTA be her!" I concluded as I followed her in.  
I saw her grab a dress from the clothing rack and enter a fitting room. That's when I totally LOST IT!
"BRIANNA! OPEN THE DOOR! YOU DON'T HAVE THE MONEY TO BUY THAT AND MOM IS PROBABLY WORRIED SICK BY NOW!!" I snarled as I banged on her fitting room door.
The door cracked open and a girl with freckles poked her head out. "My name's not Brianna!" she squeaked. "Somebody help! This crazy girl is yelling at me!"
"Oh my gosh—I am SO SORRY!!" I sputtered. Then I ran out of there as fast as I could before somebody could arrest me for harassing that little kid.
Desperate and exhausted, I found a sitting area outside of the store and collapsed into a chair. I had to call Mom back. But, what was I going to tell her since I didn't find Brianna? She'd NEVER forgive me!
My train of thought was interrupted by a voice that came over the mall intercom: "WOULD A MISS NIKKI MAXWELL PLEASE COME TO THE COSTUMER SERVICE DESK? MISS NIKKI MAXWELL. THANK YOU."
Hanging my head in utter shame, I trudged over to customer service.  There stood Mom, with her arms folded and foot frantically tapping the floor.
"Nikki J. Maxwell! Where on earth have you been?!" She cried. 
"Um, well…" I mumbled. I was SO BUSTED. There goes my allowance, like, FOREVER! Plus I'll probably be grounded. UNDER my room, instead of in it!! ☹ 
"It's Brianna. She's–"
"I'm what?" A shrill, familiar voice asked from behind Mom's back. There, of all places, and after ALL of the trouble I had gone through, stood BRIANNA!!
"Brianna?! You were with Mom THE WHOLE TIME?!!" I bellowed.
"Well, yeah! While I was in the ball pit at Kandy Kingdom, Mommy came and asked me if we wanted to go get some ice cream. But, when I came over to tell you, you were gone!" She explained all innocently. 
"That's right," Mom added very sternly. "And I couldn't reach you on your cell. If only you stayed put! Brianna and I have been looking EVERYWHERE for you. I was starting to panic and about to call the police when we found you!"
Seriously, Mom? LOOKING FOR ME?! 
You've got to be FREAKIN' KIDDING ME!! ☹️!!
Well, I have a GREAT idea. When we get home, I'll just GROUND MYSELF so that I won't have to go to the mall with you AND Brianna for a LOOOONG time!!! 
Have you ever gotten lost or separated from family or friends? How long did it take for someone to find you? Tell me about it in the comments below. I hope I'm not the ONLY person who's ever gotten lost before!