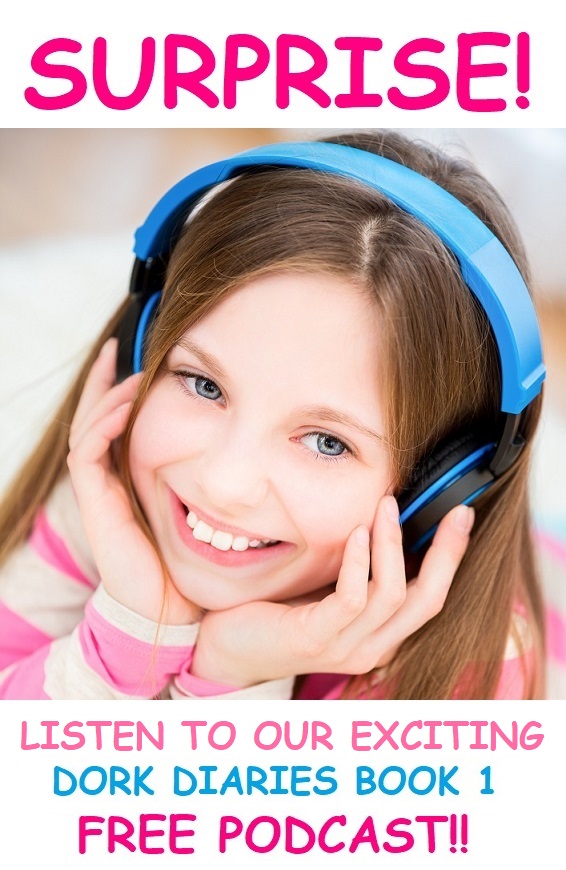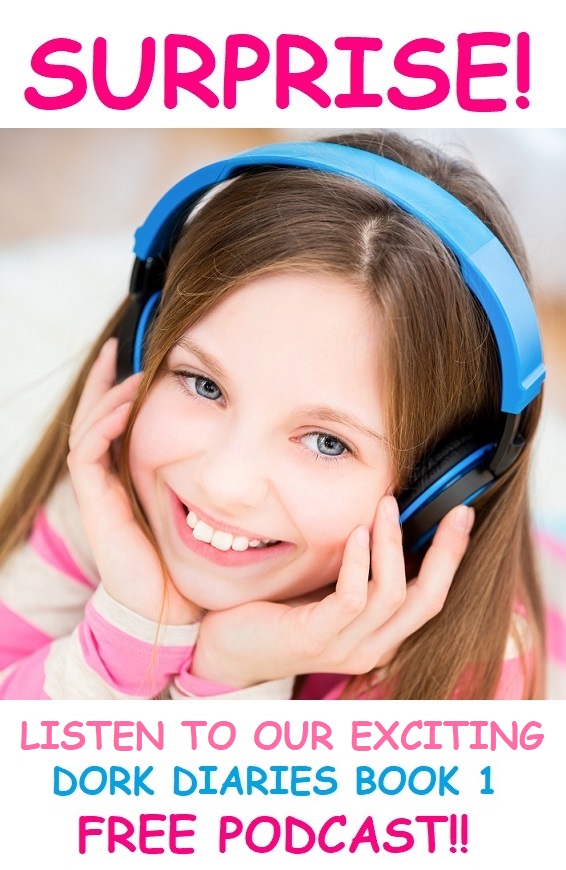 Okay! I told you I was making A LOT of changes around here to make this place more FUN and EXCITING!
Well, the FIRST thing I've added is a Dork Diaries Book 1 podcast!  YES!  A real PODCAST just for YOU!  And, it's totally FREE!!  You have been BEGGING me for a FREE Dork Diaries book to enjoy online, so HERE it is!!
DORK DIARIES BOOK 1: TALES FROM A NOT-SO-FABULOUS LIFE is the very first diary about my life at a new school dealing with a mean girl hopelessly addicted to lip gloss.  And now, you can virtually hang out with me, my FAMILY, FRIENDS, and FRENEMIES by listening to this AMAZINGLY COOL podcast!  Hey, welcome to my WACKY world!!
We went all out and you'll hear the people in my life, music, silly sound effects, and more. But, most importantly, I'm going to share my SECRETS about the endless DRAMA in my DORKY life!
Below is a 90 second preview of my new podcast.  Please click on it to listen, and if you LOVE IT, you'll definitely want to check out my Episode 1 which is 15 minutes long.
So, are you ready to hear the ENTIRE Episode 1 right now?!!  GREAT 😀!
Like most podcasts, you can subscribe to it if you want to, but NO SUBSCRIPTION IS NECESSARY!  So, just IGNORE all that subscription stuff because it's NOT required at all.
To hear my podcast, all you need to do is just CLICK ON ONE OF THE PODCAST LINKS BELOW and hit the PLAY button!  That's it!  And, each Monday and Friday, I'll add a NEW episode until we've covered the ENTIRE book. So, there will be about 15 episodes total.
I hope you LOVE my new podcast!  Please let me know what you think of it in the comments section below.  Now, just click on any one of the podcast links below to hear the entire Episode 1: