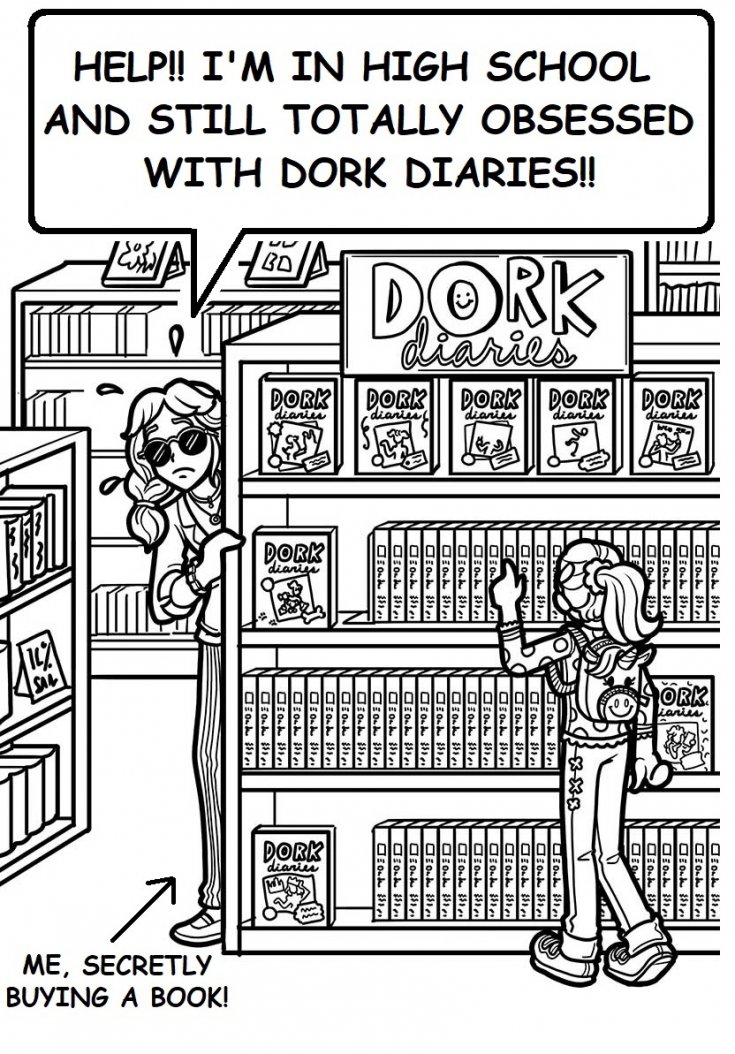 Dear Nikki,
I just LOVE reading your books and doing all the fun games and quizzes on this website! However, I feel embarrassed for being into "childish" stuff. When you read the fine print on the back cover of the book, it says that Dork Diaries is for ages 9-13. And I'm in high school! Do you have any advice?

Tales From A Not-So-Fearless Highschool Fan
Dear Tales From A Not-So-Fearless Highschool Fan,
I DEFINITELY have advice! Here it is:
ALWAYS LET YOUR INNER DORK SHINE THROUGH!!! 😀
Seriously though, labels about who can enjoy what books, shows, music, or whatever are TOTALLY random. I mean, except for stuff that's been rated as inappropriate for younger kids. But Dork Diaries is for anyone who enjoys it! Kid, teen, adult, even grandma! I probably wouldn't give it to a baby, unless you're okay with it getting slobbered on. But other than that? It's for EVERYONE!
You know who else Dork Diaries is for equally? Boys AND girls! I get quite a few boys writing to me to "confess" that they enjoy Dork Diaries. That's awesome! I'm glad! I wish they didn't feel like it was something that should be kept secret.
You know what else? No one is surprised to see girls reading and enjoying Harry Potter, Percy Jackson, Wimpy Kid and Dog Man. Like, what's up with that?! No one makes them feel weird about it. So why shouldn't boys read books that feature a girl main character?
Honestly, I think it's really important to read (or watch) stories about people who are different from us. It helps us understand each other better and have more compassion. I'm glad my books aren't only read by girls in a narrow age range (even though I LOVE my dorky tween girl readers!! YOU GUYS ROCK!!!).
Wow. I guess I had some strong feelings about this topic! LOL!!
This is actually something I see in your letters A LOT – not just about Dork Diaries, but other things you're ashamed to be a fan of. Sometimes you might think you're too young or too old for something. Other times you might feel insecure because you're into something no one else is into, and it's tough feeling like you're not part of the crowd.
Guys, that's what embracing your inner dork is all about! (LOL! when I typed that, at first I wrote 'embracing your inner fork' and now I'm trying to imagine it!) You should enjoy the things you enjoy because YOU enjoy them. That's all that matters!
Don't deny yourself the things you enjoy because of what someone else might say. And don't pretend you like things just because other people are into them. There's just too much great stuff out there to enjoy without wasting time on things that you aren't really into!
Do you like something you feel insecure about? Or is there something everyone else is into that you just don't get? Tell us all about it in the comments, and show readers like Tales From A Not-So-Fearless Highschool Fan some support!