IT'S A FUN SNOWMAN PUZZLEPALOOZA!!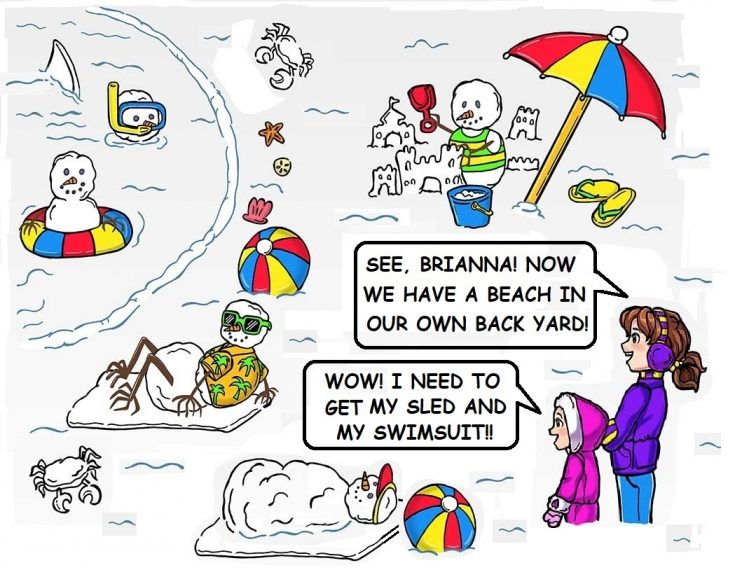 Hi everyone! Lately, the weather here has been FREEEEEEEZING!
We've had TWO blizzards in just the past week. So, Brianna and I have been stuck inside the house like FOREVER, and we're going NUTZ!

My mom suggested that we do a craft project to get our minds off all of the snow. But how could I get my mind off of EIGHT inches of snow that literally has us TRAPPED inside our home!!
I just wanted to be on a warm, sunny beach somewhere. ANYWHERE! That's when I decided to take lemons and make lemonade.

Brianna and I bundled up in our winter coats, hats, mittens, and boots. Then, we grabbed some beach toys from a storage box in the garage and trudged out into the snow!!
We had a BLAST creating a really cool, life-sized CRAFT project right in our backyard! And, when we finally finished, OUR snowman family was having FUN in the SUN, SURF, and SNOW!! SQUEEEEEEEEEEEEEEEE 😀!!
I was back in the house warming up with a yummy cup of hot chocolate with extra marshmallows when I came up with another COOL idea. I decided to find some CUTE snowmen online that reminded me of each of my friends 😀! And, my FRENEMY, too ☹️!
I thought these photos would be fun to share with YOU!! But, there is a TWIST!! I DECIDED TO TURN THE PHOTOS INTO PUZZLES!! So, today we're featuring a brand new activity that I'm calling…
DORK DIARIES PUZZLEPALOOZA!!
If you like this activity, maybe we'll do it once a month. Below are links to six cool snowmen photos. Since some of you are pretty good at puzzles, I have TWO levels. Level 1 is easy and Level 2 is intermediate. For our next Puzzlepalooza, I might include an advanced Level 3.
Just select a snowman from the list below and click on the link. Then put the puzzle pieces together to see the SNOWMAN that I selected for each of my friends. To be honest, I'm not that into puzzles, but these were really FUN to do!
PUZZLE HINT: Start with the pieces that have a straight edge since it's easy to figure out if they go on the top or the bottom or on the left or right sides. Also, the CORRECT puzzle pieces will lock into place and stay attached to each other.
CLICK ON THE LINKS BELOW TO GET STARTED:

1) BRANDON'S SNOWMAN
HINT: Looks Like Puppy Love! Brandon LOVES dogs, so this snowman is PERFECT for him.

LooksLikePuppyLove Level 1
LooksLikePuppyLove Level 2

2) MACKENZIE'S SNOWMAN
HINT: Lip Gloss and Glam!! This fashionista snowgirl could be MacKenzie's new BFF!
LipGlossAndGlam Level 1
LipGlossAndGlam Level 2

3) ZOEY'S SNOWMAN
HINT: Sweet Snow Bunny! Zoey texted me a photo of an adorable bunny that was hopping around in the snow in her backyard. It looked just like this!
SweetSnowBunny Level 1
SweetSnowBunny Level 2

4) CHLOE'S SNOWMAN
HINT: Chloe and Her Lil 'Bro! Chloe adores her little brother, and they also played in the snow today. These snowmen remind me of them.
ChloeAndHerLilBro Level 1
ChloeAndHerLilBro Level 2

5) BRIANNA'S SNOWMAN
HINT: KAY-RAY-ZEE Kid! OMG, Brianna is SO full of energy! If she were a snowman, she'd look just like this!
KayRayZeeKid Level 1

KayRayZeeKid Level 2
6) NIKKI'S SNOWMAN (Yes, I picked out one for ME, too!)
HINT: Precious Polar Bear Babies! I LOVE this polar bear family, and the cubs are ADORABLE!
PreciousPolarBabies Level 1

PreciousPolarBabies Level 2
What did you think of my new PUZZLEPALOOZA idea. Were the puzzles fun?  Which snowman is YOUR favorite?