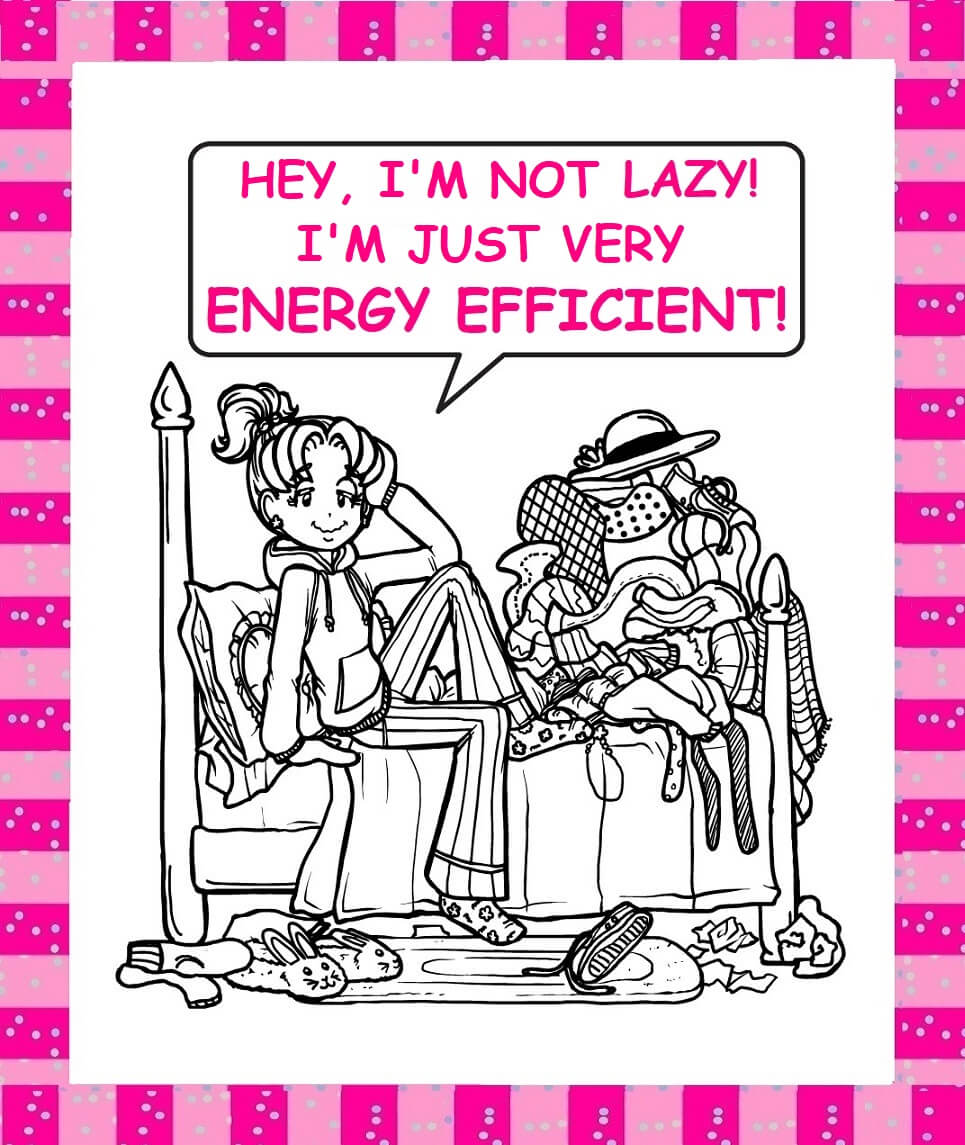 What's up, everyone! It's Nikki, here.
I want to start by apologizing for MacKenzie Hollister's very rude behavior in last week's column (if you don't know her, she's the antagonist of my life AND the Dork Diaries book series)!
Since MacKenzie contributed personal diary entries about her life to Dork Diaries Book 9 (after she kind of STOLE my diary out of my locker), I thought it would be interesting to get HER perspective on things since you usually only see MY point of view.
But, what can I say?! MacKenzie is just…MACKENZIE! And, she's quite the DRAMA QUEEN!! But, I'm going to find something NICE to say about her like, well…let's see, um…
I LOVED HER FASHION GAME!! IT WAS REALLY FUN!! AND, I WON!!
This week, we have another silly and fun…
QUIRKY QUESTION OF THE WEEK!
The drawing above is what my bedroom looks like right now. It's very messy, and I obviously missed "National Clean Your Room Day" which was celebrated last month on May 10th. Yes, it's actually a THING!
But, this got me thinking. For the past year, we all have spent a HUMONGOUS amount of time stuck at HOME, right?
Did you use this extra time to keep your bedroom NEATER? Or, did you spend a lot more time hanging out in there which made it MESSIER?
You actually have FOUR choices. Would you describe your bedroom as:
Nice-N-Neat
Comfy-N-Cozy
Controlled Chaos
Massive Mess
In the POLL below there are four photos. If you're using a smartphone, you may have to scroll a bit to see all four of them. Pick the photo that looks the most like YOUR bedroom on a daily basis.  To VOTE, just click on it.
Then check out the results to see how everyone else voted.
But, don't worry!! This is all in good fun, and there is no right or wrong answer. Hey, it's YOUR bedroom!
Tell us which bedroom you selected in the COMMENTS SECTION below. And, while you're at it, please share the THREE things you LOVE most about your OWN room. Is it painted your FAV color? Do you snuggle up in that comfy comforter that your grandma knitted for your birthday? Does sunlight beam through your window at the perfect angle to wake you up each morning? We can't wait to hear all of the details!