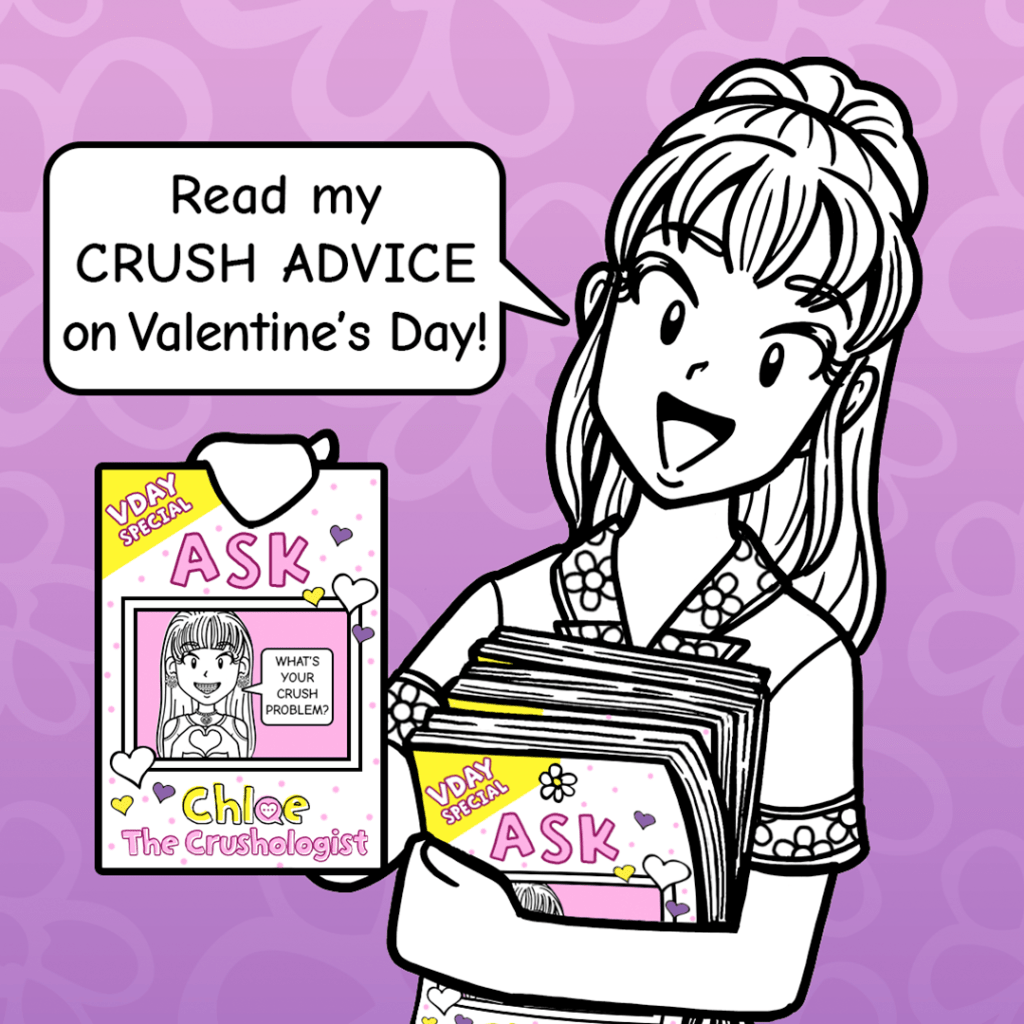 Hi, it's Chloe the Crushologist!
Did you know, there's lots of different specialists with "ologists" in their name like me. For example, a Cardiologist treats conditions of the heart, an Ophthalmologist treats conditions of the eyes, a Neurologist treats conditions of the brain, and a Dermatologist treats conditions of the skin, hair, and nails. And my all-time favorite, a Crushologist, who treats conditions related to a crush! 😀
While I may not be a medical doctor, I do have a ton of on-the-job training and experience as a CRUSHOLOGIST and I'm an expert in RELATIONSHIPS, ROMANCE, and giving ADVICE!! And because of my expertise, I can diagnose CRUSH-ITIS, recommend treatment to fix a BROKEN HEART, and solve your CRUSH or FRIENDSHIP problems!
So, let's get started by answering a few questions! Do you suffer from any of the following conditions when you're around a certain person?
Dizziness
Shortness of Breath
Can't Concentrate
Uncontrollable Stupid Statements
Wobbly Knees
Irregular or Skipping Heartbeat
Loss of Words
Feeling Queasy
Obsessive Thinking
Sweaty Palms
Insanely Happy
Crimson Cheeks
Spontaneous Embarrassing Actions
Rollercoaster Syndrome (aka Stomach filled with fluttering butterflies)
Or maybe you've caught yourself daydreaming about that special person at school. Have you been friend-zoned or even rejected by your crush? Do you have a crush or friend problem?
If you've answered yes to any of these questions, no worries because the DOCTOR IS IN!!
Tell me your crush or friendship problem in the comments section and throughout the month of February, I'll randomly pick a few questions to post and answer.
Check back on Valentine's Day to see if your question was selected!! Since I have school and a bunch of homework, I'll only be able to accept your questions until Friday, February 10th.
UPDATE: DUE TO POPULAR DEMAND, I HAVE EXTENDED THE TIME I'LL BE ACCEPTING QUESTIONS TO SUNDAY, FEBRUARY 12TH AT 6:00 P.M.!