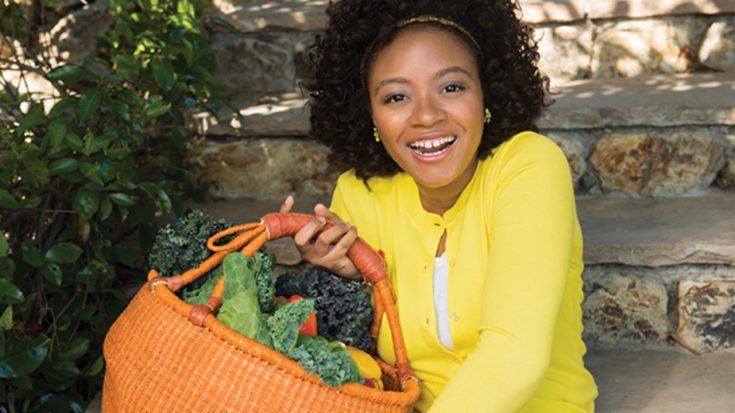 When Haile Thomas was ten years old, her dad was diagnosed with an illness called Type 2 diabetes. The illness can be really serious, with a lot of complications. But Haile and her family were determined to turn things around. They started changing how they cooked and ate completely!
Haile's Jamaican-American family was already into cooking – her mom had taught her when she was five, and when she was nine she started a YouTube channel called Kids Can Cook. But her father's health issues kicked her cooking passion into a whole other gear!
Her family's healthy choices helped completely reverse her dad's diabetes, but Haile wasn't going to stop there. She had learned that kids were getting diagnosed with diabetes too, as well as heart disease and obesity—all conditions that can be improved with nutrition. At TWELVE YEAR OLD, she became the founder and CEO of HAPPY (Healthy Active Positive Purposeful Youth), an organization that offers fun, youth-led programs that help educate kids about healthy choices. HAPPY offers summer camps, classroom visits, and are currently developing online lessons for kids 8 – 12.
Running a whole organization seems like it would keep a girl busy, right? Well Haile still somehow found time for a few other activities. Here are some things she's done:
Her recipe for black bean and corn quinoa won a White House competition in 2012 and she cooked for Michelle Obama!

She worked for two years as the Junior Chef Advisor for Hyatt Hotel's "For Kids By Kids" Menu, and her kids menu recipes were cooked and served at Hyatt Resorts across the country!

She was featured on Rachael vs. Guy Kids Cook-Off and on Cupcake Wars Kids.
She wrote a COOKBOOK called Blessed by the Bowl: 15 Easy Vegan Bowl Recipes
She hosts a podcast called Girl Empowered, in which she interviews inspiring women.
She has a YouTube Channel called Plant-Powered Haile, where she shares lifestyle and vegan recipe videos.
And at 18, she's recently become the youngest Certified Integrative Nutrition Health Coach in the US.
Here's where you can find Haile. I don't know about you, but I am going to give some of her recipes a try! 
Do you like to cook? Have you ever made up a recipe? How did it turn out? Tell us in the comments!